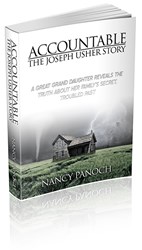 Cedar Rapids, IA (PRWEB) January 06, 2014
Nancy Panoch, author of the recently-released "Accountable: The Joseph Usher Story," will appear at a book signing at the Cedar Rapids Barnes & Noble (333 Collins Rd. NE, Building 1, Northland Square SC) on Saturday, January 25th at 1 p.m. Published by ExpertSubjects.com, "Accountable: The Joseph Usher Story," is a true historical crime mystery, set in 1903 Iowa. Panoch, a former Iowan who grew up in Chickasaw County, recounts the intertwined stories of Joseph Usher, her great-grandfather, and William Garrity, Usher's mysteriously murdered farmhand.
In the process of exploring her Native American ancestry, Nancy Panoch stumbled on shocking information about a murder mystery on her mother's side of the family. With the newly-gained knowledge, Panoch was moved to write and publish "Accountable: The Joseph Usher Story," in defense of the man who committed the crime, her great-grandfather Joseph Usher.
About "Accountable: The Joseph Usher Story"
When Joseph Usher hired William Garrity as a farmhand, he had no idea their lives would be forever intertwined because of the events of May 26, 1903. This is a true story of love, betrayal and murder that is studied by criminal law students to this day. The Usher family struggles to survive tragedy, ruin and a county's hostility, as they try to unravel the mystery of who killed William Garrity. Because his entire family is depending on his strength, Otto Usher, a teenage boy, grows into a man as he takes on the responsibilities of the family farm while his father and stepmother's lives are in jeopardy.
"Accountable: The Joseph Usher Story" is now available at Barnes & Noble locations throughout Iowa. For more information, please visit http://store-locator.barnesandnoble.com/event/4648187.
About ExpertSubjects.com
ExpertSubjects.com is a trusted Internet resource for self-publishing authors and writers. The site offers a wide variety of self-publishing services such as editing, book cover and interior design, eBook formatting and distribution, marketing, website design and traditional publishing. For more information on self-publishing through ExpertSubjects, please visit http://www.expertsubjects.com.
###