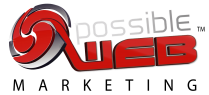 Every small business should be concerned with finding and reaching their target audience online along with constantly testing and improving user experience to increase conversions, sales and ROI.
Miami, FL (PRWEB) January 06, 2014
Web Domination is now not only possible but affordable too. North Carolina based web marketing company Possible Web will be presenting their newly designed Premium Web Domination packages at this year's Small Business Expo in Miami, FL. This is exciting news for small business owners, as the flat-rate, fully managed packages offer a potent combination of organic SEO, Social Media marketing, content marketing and their newly released Smart RTB platform which can access 50 billion banner impressions daily across 98% of online advertising inventory.
Although traditional forms of marketing still have their merits, the statistics tied to online search and commerce are too hard to ignore. By 2016, some experts estimate 96% of US consumers will use the Internet at some point during the buying process. In 2014 it will be more crucial than ever for small business owners to engage in effective and efficient online marketing.
With the addition of their proprietary RTB technology, Possible Web moves into the upper echelon of web marketing companies, not only offering to build beautiful web properties but boasting the ability to drive unlimited online traffic your way. And not just any online traffic, but sales ready leads that when combined with a well thought out conversion funnel will boost the R.O.I of your online investment.
Founder Patrick Scully says, "Real Time Bidding is about more than just advertising on a mass scale for pennies on the dollar, it is about discovering your ideal customer as an individual and reaching them when it is perfect timing, for them. Bringing a website visitor back to your website when they are in "buying mode", increases your chances of conversion 50-70%, with RTB technology you now have that ability."
With over 27 partnerships with Ad Exchanges and DMPs and over 60 years of combined internet marketing experience, Possible Web looks to make the incredible power of the web accessible and manageable for small to mid-sized enterprise businesses. Go find them at the Small Business Expo on January 16, 2014 in Miami, FL Booth #303 and speak to a web marketing pro or call (866) 680-6180.
Possible Web LLC is located in Matthews, NC with satellite sales offices in Charlotte and San Diego, CA. Founded in 2012, the team has grown from original founders Patrick Scully and Ben Martin to a team of web marketing and digital design pros with the common goal of growing their clients' businesses.