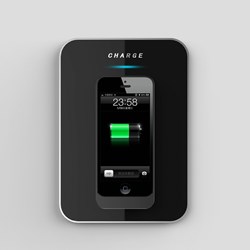 The Blade 5/5c is the stylished wireless charging case for iPhone 5S/5C/5 users.
Las Vegas, Nevada (PRWEB) January 07, 2014
Esorun is the well-known company that is committed to making technology easier for on the go users. After the release of amazing 3 in 1 keychain charger, they have come up with yet another product that can help all cell phone user with the Blade 5/5C-- a stylish Qi wireless charging case for the iPhone5S/5.
Owning a smartphone is one of today's best technologies that enables the user to not only have a great cell phone, but to go online and download movies, music, and data and have it right at their fingertips. It is a mini computer essentially and sometimes when it is used a lot, it can drain the battery. This can happen at inconvenient times, such as when an important call is expected or a file is not finished downloading. Now, the latest invention by Esorun is handy, convenient and a must have, a wireless case that charges the smart phone. So, the phone never has to run out of power and ultilizing is not an issue.
This type of case is the thinnest wireless charging case for the iPhone and has the best wireless receiver. The back shell is only 1.8mm plus 1.0m bezel giving the perfect protection for the screen. Now everyone knows that the case is an important accessory and almost a fashion statement of the user, and Esorun recognizes this as they have made these cases stylish and thin with a variety of colors such as Black, Silver, Yellow, Red, Orange, and Green. Like Esorun's other power cases, it will have a window for the camera as well and will have two choices for different users: with or without leather cover. The latest news is they are going to apply for MFi certificate from Apple Inc. for these wireless cases.
Esorun's customers are already showing interested in the iPhone 5S wireless case. This ultra-thin wireless charging case is expected to be a big hit.
About Shenzhen Esorun Technology Co., Ltd
As an elite manufacturer of mobile phone accessories, power banks, wireless chargers, wireless hard drives, Esorun has built its reputation on delivering the best accessories and peripheral products for the mobile technology marketplace. The company specializes in creating cutting-edge products, allowing consumers to enjoy the most elegant solutions for all their communications needs.
Company Contact : Hongjun Jiang
Company Email: Sales(at)esorun(dot)com
Company Phone : 0086.755.8143469