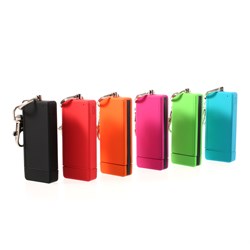 This creative KR800 keychain charger owns multi-function of SYNC cable & power charger & flash memory up to 64GB--3in1.
Las Vegas, NV (PRWEB) January 07, 2014
Esorun, a leading force for innovation in the technological marketplace, announced the release of its 2nd generation KR800 multi-function key ring charger. This new KR800 launch took place at the CES show in Las Vegas. The innovative device incorporates a USB SYNC cable, USB flash drive and a battery charger to help mobile phone users stay connected and charged up on the go. Cell phone battery life is a major issue for many mobile users, so the new Esorun KR800 is a welcome addition to the iPhone and mobile device accessory marketplace.
The KR800 keychain charger incorporates many of the most important features for mobile communications devices, including the following:

USB flash drive in the buyer's choice of 2GB, 4GB, 8GB, 16GB, 32GB and 64GB data storage capacities
Standard USB, Micro USB, 8-pin lightning connector or 30 pin connector plugs to offer maximum compatibility options for consumers
Built-in rechargeable Li-polymer battery cell (1000mAh)
Compact size makes this keychain solution easily portable
Integrated USB data cable for ease of communications
Fast recharge times and on-the-go convenience
The KR800 charger has been tested extensively with the new iPhone 5S/5C/5 and can offer up to 45 percent more battery life for these advanced technological devices. Apple Inc. has authorized the device the PPID to move on.
Esorun's KR800 keychain gadget keychain gadget offers consumers a handy way to manage their data storage, data communications and device recharging needs in one convenient carry-along device. It is compatible with most phones and provides the charging power necessary to keep consumers connected even when no charging outlet is readily available. The KR800 makes an ideal gift and is available in a wide range of colors that include black, white, pink, orange, blue, green, yellow and red. Esorun holds the patent for the KR800 design and is currently applying for MFi certification for keychains using the 30-pin or 8-pin connectors.
About Esorun:
Esorun is a leading manufacturer and retailer of portable charger, keychain cables WiFi external hard drives, mobile phone accessories and wireless charging solutions. The company excels in creating innovative solutions to everyday challenges and delivers a wide array of useful and portable devices and gadgets to make life simpler for mobile phone users. The addition of the all-new KR800 will attract even more attention and customers for the elite Esorun lineup of mobile accessories.
Contact:
George Jiang
0086-755-81483469
sales(at)esorun(dot)com
http://www.esorun.com