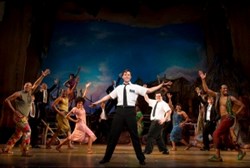 20% discount at check out with promo code "wicked".
Los Angeles, CA (PRWEB) January 05, 2014
Tickethunteronline.com announces that they have discounted prices for all 2014 Book Of Mormon tickets including the Pantages Theater. Book Of Mormon will be coming to the following cities in the near future in addition to the Gershwin theater in New York : San Francisco, London, Los Angeles, Boston, Milwaukee, Houston, Minneapolis, Kansas City, Little Rock & Oklahoma City. The Los Angeles-based ticket seller offers a 20% discount at check out with promo code "wicked".
The production continues to receive excellent reviews.
You'll not only laugh; you'll also marvel at the skill with which this show is constructed. Yes, the jibes descend into the juvenile, and the jokes at the expense of religion, AIDS and Third World poverty may compel you to wonder how that sweet-looking older couple at the end of your aisle is taking to all the seemingly blasphemous profanity. But the surprising thing about "Book of Mormon" is that despite all its nihilistic swagger, it's a musical with a soul. Said Peter Marks of the Washington Post
Other Broadway incentives include discount Book of Mormon tickets.
About TicketHunterOnline.com
TicketHunterOnline is the source for all of the entertainment needs.
TicketHunterOnline.com is a discount ticket sales and event promotions company. Producing over 200 live events each year, ticket hunter remains the premiere destination for live entertainment. Ticket Hunter partner's with the leading ticket distribution companies across the globe, allowing access to the top events at the best prices.
TicketHunterOnline.com is your online source to great seats at competitive prices for all sports and entertainment events in the US and Canada. We pride ourselves on delivering a full range of seating options at the lowest prices ever seen.
We understand that there are many options to choose from when buying tickets. This is why we separate ourselves from the competition by offering lower prices and outstanding customer service.
Other News:
http://www.prweb.com/releases/2013/10/prweb11221657.htm
http://bookofmormonbroadway.com