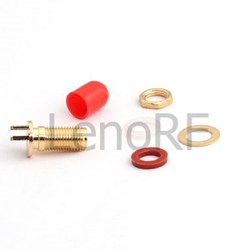 (PRWEB) January 07, 2014
Recently, LenoRF, a leading SMA product supplier, has added over 5000 SMA bulkhead connectors to its product line. The company has also launched a special offer to expand its market share. According to the CEO of the company, all new and old clients can get a discounted price before the end of this month.
The company's new SMA bulkhead connectors have distinguished performance. They are especially made for those looking for excellent connectors at affordable prices.
Some product description of the company's SMA bulkhead connectors is as follows:
--Impedance:50 ohms
--Frequency Range: DC-18GHz (semi-rigid cable)
--DC-12.4GHz (flexible cable)
--Mating: .250-36 threaded coupling
--Durability: 100 cycles minimum
--Body and outer contacts: Brass, nickel or gold plated
--Male Contact: Brass, Gold plated
--Female Contact: Beryllium copper or phosphor bronze, gold plated
--Crimp ferrule: Copper or brass, nickel plated
--Insulator: LCP, PTFE or PFA
--Quality performance with low VSWR , DC TO 18 GHz
--Work for 0.085″ and 0.141″ diameter semi-rigid cables and all standard flexible cables include double shielded RG-316
--Straight, Right angle plug and jacks
--PCB-Printed circuit board connectors, SMD available
--Accordance with MIL-C-39013 and CECC 22110/11
LenoRF is providing over 200 different kinds of useful devices, including MMCX Coax Connectors Female For PCB, MMCX Coax Connectors Male Right Angle For RG174 Cable, MMCX Coax Connectors Male For RG174 Crimping and so on. What's more, custom made items are also offered by the company.
About LenoRF
LenoRF is a famous global manufacturer of coaxial connectors and cable assemblies. The company has been specializing in the industry for several years, and insists on providing effective turnkey solutions for radio frequency systems. Its customers include worldwide OEMs, distributors and system integrators from various fields like broadcast, land-mobile, wireless communications, microwave market sectors and so on.
For more information, readers can visit http://www.coaxial-connector.com/product/sma-connectors-edge-mount-for-pcb/