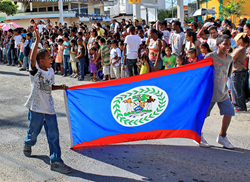 "What is happening is that, more and more, people are seeing a future for themselves and their families, and this is having a positive effect on society as a whole."
San Ignacio, Belize (PRWEB) January 06, 2014
The Lodge at Chaa Creek welcomes news that, while the rest of the Caribbean has seen an increase in murders during 2013, Belize is the only Caribbean and Central American country where the murder rate has dropped – and substantially.
Chaa Creek's Safety and Security Manager Emil Bradley pointed to a January 3 2013 Belize 7 News report quoting recently compiled figures on crime in the region, and said this is good news for Belize's fledgling tourism industry.
"While one murder is way too many, Belize's drop in crime, and especially in murders, is excellent news and bodes well for the future," Mr Bradley said, "We have to commend both the police and the public for a great result in 2013," he added.
Mr Bradley also said that it was important to note that violent crime in the region rarely impacts tourists. "Unfortunately, it occurs among the disadvantaged in society and in the drug trade," he said.
While 7 News cautioned that their figures were preliminary and not yet finalised, the statistics put Belize well ahead of the region with a decreased, rather than increased murder rate last year. The figures coincide with those released by Belize's Amandala newspaper late last year, which described a dramatic reduction in crime overall.
The Belize 7 News report states that Trinidad and Tobago had 405 murders in 2013, 6% more than the previous year, putting their murder rate at 30 per hundred thousand.
Jamaica saw 1241 murders, which is up 15% from the year before putting their murder rate at 46 per one hundred thousand, which is expected to be one of the highest in the hemisphere, while in the Bahamas there were 118 murders, putting that country's murder rate at 32, which is up 6% from last year.
Guatemala saw 6,072 murders, 47 more than 2012, leaving that country with a murder rate of 40.2, compared to Belize's reported 99 murders, and while figures for Honduras were not available, 7 News reports that it is widely regarded as having one of the highest murder rates in the world.
Mr Bradley, a former police officer, said many factors, including increases in police training and public liaison, combined with the country enjoying a higher standard of living, have contributed to the decline.
"Ecotourism continues to flourish in Belize as word spreads about our pristine natural environment and rich Maya heritage, which is reflected in an abundance of ancient Maya temples, artefacts and remnants of cities. This means that more people are gainfully employed, which is always the best antidote for crime," he said.
Mr Bradley said that The Lodge at Chaa Creek, which employs some 130 people, is just one of Belize's resorts, and has made a big difference in the lives of local villagers.
"If you consider how many people are directly employed, and how many are involved in spin-off businesses, such as tour operators and the like, you can see the effect that tourism is having on Belize. And the fact that, as a country, we're ecotourism-oriented, it's an industry that is having a positive effect on Belize," he said.
Mr Bradley added that in addition to employment and career opportunities, Chaa Creek, as an example, also sponsors various programs for young people, such as the annual Eco Kids free educational summer camp and other initiatives under their Chaa Creek Cares program, which sees 10% of all room revenue going to environmental and social programs.
"What is happening is that, more and more, people are seeing a future for themselves and their families, and this is having a positive effect on society as a whole. People always comment on how warm and friendly Belizeans are, and we're also by nature hard working and industrious.
"As I've said before, given the choice between crime and work, most Belizeans would choose work. And as our tourism industry grows, I predict we'll see even better results in the future," he added.
ENDS