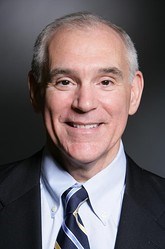 Bob...combines sharp business acumen with a brilliant judge of human character
Los Angeles, CA (PRWEB) January 07, 2014
Vixlet, LLC today announced it has appointed Mr. Robert Damon (Bob) as Chairman of its Advisory Board. Bob currently serves as Executive Chairman, Americas for Korn Ferry Inc. Korn Ferry headquartered in Los Angeles, is the world's largest executive search firm, and the largest publicly traded search firm in the United States, with offices in North America, Europe, Asia Pacific, Latin America, the Middle East and Africa.
Bob will also serve on the Compensation Committee as its Chairman. His appointment is effective January 7, 2014.
"Bob is a special person who understands what it takes to build great companies and combines sharp business acumen with a brilliant judge of human character," said Krishna Gopala, Co-founder and executive vice chairman of Vixlet. "We know he will provide outstanding leadership to the Board and be a great contributor and we are very grateful to have him with us."
"Vixlet is pioneering the social networks of tomorrow with its disruptive software platform and the excitement of working with great minds to unlock the potential of a standout growing business is a rare opportunity" said Bob. "I am very honored to lead the advisory board of the company as its Chairman."
Bob has had successful CEO placements in many Fortune 100 companies as well as many world-renowned, high profile consumer branded organizations. He spends a significant amount of time recruiting leadership talent for private equity backed companies. Earlier in his career, Mr. Damon was a consultant with Booz Allen Hamilton and began his career with a series of management positions at Arcata Corporation. Mr. Damon holds both a master's and bachelor's degree in industrial management from Purdue University.
Bob is a former minor league hockey player and college football player.
About Vixlet LLC.
Vixlet is pioneering the new frontiers of Social Media with its software platform and ways people connect with their passions and interests. As an early growth stage company, Vixlet now prepares itself for aggressive commercialization. Vixlet is headquartered in Los Angeles with representative offices in New York and Netherlands. For more information, visit http://www.vixlet.com and get an exclusive invite for a peek into the future of social networks.