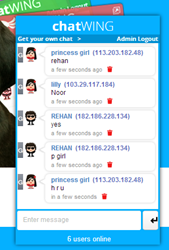 New York, NY (PRWEB) January 08, 2014
Chatwing and its team of developers are currently offering chat box upgrades for Android users. These upgrades are exclusive for Android users who are registered in the Chatwing chat software database. The users can check out the following upgrades of the universal chat app:

Faster social media login. The Chatwing tool has undergone a series of technical glitches in the early months of 2013. Proactive as ever, the developers have improved the platform, reducing the glitches by as much as 80%. Additionally, the developers have pinpointed the speed of social connectivity. Now, Android users can have faster social login results. Chatwing chat app team expects that more users will now check out the improving widget.
More colors and themes. To improve user experience, the developers have added more colors and background themes. With additional choices, the users can create numerous combinations. This creates better customization output and also increases client satisfaction rate. For faster outputs, users can just choose a background theme. Every theme is laced with beautiful designs and there are hundreds to choose from.
Added avatars. Guest avatars have also become popular in the Chatwing chat room software, according to the company's researchers. Because of this rate, the company has added new avatars—especially for Android users. Custom avatar creation is also being discussed in the Chatwing strategic panel.
Chatwing's innovative website chatroom tool is dedicated to continuous growth. To commit to this goal, the developers are brainstorming about changes, online strategies, and upcoming enhancements.
About Chatwing.com
Chatwing.com is a company that has brought innovation to the modern chat widget. Operating for more than five years now, Chatwing and its team of developers have dozens of ideas ready to be introduced to the public. The Chatwing chat app is an easy-to-use online tool that can help web users interact with each other and can also generate continuous traffic. Chatwing will always be a "freemium" application for everyone.