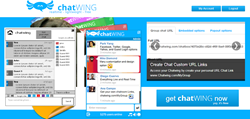 Cambridge, MA (PRWEB) January 09, 2014
Cambridge, MA – With the goal of reaching out to more Android users, Chatwing Development Team has started sharing chatroom design tips. These design tips are reviewed by the developers and will ensure that Android users will get the best communication experience from the embeddable chat tool.

Complementing designs. Chatwing chat software developers have emphasized the importance of complementing designs. Based on studies, visual aesthetics can affect the mood of website visitors. This is the reason why flexible designs can make a real difference in a website's popularity. Chatwing Team has also added a new variety of colors to choose from, along with different background themes.
Updates in the chatroom. Using quick messages in a chatroom software, any user can share important updates about his marketed products and services. Additionally, he can also share information about his websites and blogs. Quick updates are necessary since visitors are often on the rush. This data is based on the short study done by Chatwing developers about typical chatroom visitors.
Chatroom teamwork. Since Chatwing users can add their friends as moderators, communicating with visitors becomes an easy thing. Chatwing chat room app team believes that all chatrooms and widgets should be monitored frequently, in order to handle all concerns of visitors. Once visitors think that their informational need is handled properly, they can contribute high rates of traffic.
Chatwing.com will offer more tips for Android users in the coming weeks. Users are advised to check out Chatwing's blog for widget information, new designs, and even premium services.
About Chatwing.com
Chatwing.com is a company that has brought innovation to the modern chat widget. Operating for more than five years now, Chatwing and its team of developers have dozens of ideas ready to be introduced to the public. The Chatwing chat app is an easy-to-use online tool that can help web users interact with each other and can also generate continuous traffic. Chatwing will always be a "freemium" application for everyone.