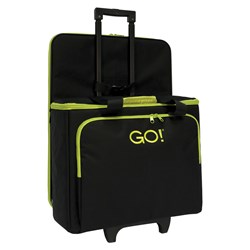 Omaha, NE (PRWEB) January 06, 2014
More than ever before, quilters and fabric crafters are on the go to classes, conventions, demos, and guild meetings. With the new GO! Rolling Tote and Die Bag, AccuQuilt presents the ultimate way for quilters to take their fabric cutters and accessories with them wherever they sew.
The versatility of this tote is the real news here. The GO! Rolling Tote has the storage and capacity options that make it easy to prepare for any event. Quilters can use it for their fabric cutters or sewing machines, sewing accessories, fabric storage, demonstration tools, and more.
Within the tote, you'll find roomy accessory pockets, Velcro straps to hold your GO! Cutter, a large compartment for GO! Strip Cutter dies and even an 18" x 24" rotary cutting mat. Top carry handles make it easy to lift the tote onto tables and into vehicles. Sturdy, high-impact plastic feet offer a stable base that won't tip when set up. It's even available in two stylish color options to match your personal style*.
This innovative tote is packed with features that make travelling a breeze! Including telescopic handle and dual wheels for smooth rolling over tile and carpet. Its balanced design makes moving through convention rooms, airports, and hotel lobbies effortless.
Once again, AccuQuilt took the suggestions of its customers to create a tote that fills a multitude of quilter's needs. No need to quilt within the confines of your sewing room, join your quilting friends and bring everything you need in your GO! Rolling Tote.
To learn more about the GO! Rolling Tote or how to promote it in stores, click here.
*Black is currently available. Green will be available January 15, 2014.
AccuQuilt GO! fabric cutters, dies and accessories are available at local quilt and fabric retailers. Quilters also can purchase GO!® and Studio™ fabric cutting systems by visiting http://www.accuquilt.com or calling 888.258.7913.
About AccuQuilt, Better Cuts Make Better Quilts:
Headquartered in Omaha, Neb., AccuQuilt offers quilters, fabric crafters and retailers a premiere line of fabric cutters, dies, quilting patterns and other quilt and fabric cutting solutions that help quilters quickly and accurately cut shapes for quilting and fabric crafts. AccuQuilt also offers quilters a wide variety of rich educational resources to enhance their quilting experiences. Cutting with AccuQuilt cutters is a natural evolution of fabric cutting methods. "First scissors…then rotary…finally…AccuQuilt" for fast, easy, accurate fabric cutting. Visit http://www.accuquilt.com for more information.