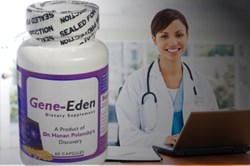 A reactivation of VZV and an outbreak of Shingles can be bad enough without having to worry about the possibility of a stroke. That's why we recommend helping the immune system to target Varicella Zoster Virus while it is still latent. – Mike Evans, polyD
Rochester, NY (PRWEB) January 11, 2014
Herpes Zoster (HZ), a condition caused by the Varicella Zoster Virus (VZV), increases the risk of transient ischemic attacks (brain dysfunction caused by a loss of blood flow), and for stroke. This is according to authors of a new study from the UK (1). polyDNA recommends that people infected with the virus that caused herpes zoster consider taking Gene-Eden-VIR. This natural product was clinically proven to reduce symptoms viral infections in a study that followed FDA guidelines.
An article reporting on the study, which was published on January 02, 2014 on the Medscape website, said that there are "several potential explanations of how HZ may increase the risk for cerebrovascular disease. It's possible, they write, that the circulating virus is able to infect arterial tissue, particularly when damaged by preexisting risk factors, which could contribute to prolonged inflammation with increased vascular insult (injury) (2)." In simple terms, the virus may cause an inflammation in the arteries of the brain.
Dr. Breuer said, "herpes zoster adds to your risk of actually having a stroke or a vascular event (2)."
"Shingles is caused by the varicella zoster virus, the same virus that causes chickenpox. After a person recovers from chickenpox, the virus stays in the body in a dormant (inactive) (latent) state. For reasons that are not fully known, the virus can reactivate years later, causing shingles." This is according to the CDC in a page last updated on January 10, 2011 (3).
"A reactivation of VZV and an outbreak of Shingles can be bad enough without having to worry about the possibility of a stroke. That's why we recommend helping the immune system to target Varicella Zoster Virus while it is still latent." – Mike Evans, polyDNA
polyDNA recommends targeting the latent VZV with Gene-Eden-VIR, a natural antiviral proven to be safe and effective in a clinical study that followed FDA guidelines. In a post marketing clinical study published on August 12, 2013 in the medical journal Pharmacology & Pharmacy in a special edition on Advances in Antiviral Drugs, researchers showed that Gene-Eden-VIR is safe and effective (4). Additionally, up to 70% of those studied reported a decrease in viral symptoms, and users experienced an increase in overall health (4).
Each ingredient of Gene-Eden-VIR was chosen through a scientific approach. Scientists scanned thousands of scientific and medical papers published in various medical and scientific journals around the world to identify the safest, most effective natural ingredients that target latent viruses (4).
To learn more about Gene-Eden-VIR and herpes, visit: http://gene-eden-kill-virus.com/Herpes-Remedy.php. All orders of Gene-Eden-VIR are completely confidential, and no information is shared or sold to any third party. Privacy is assured.
Reference:
(1) Herpes zoster as a risk factor for stroke and TIA: A retrospective cohort study in the UK. Published on January 02, 2014.
http://www.neurology.org/content/early/2014/01/02/WNL.0000000000000038.full.pdf+html
(2) Herpes Zoster Linked Again to Increased Stroke, MI. Published on January 02, 2014.
http://www.medscape.com/viewarticle/818612#2
(3) CDC - Shingles (Herpes Zoster). Last Updated January 10, 2011.
http://www.cdc.gov/shingles/about/overview.html
(4) Gene-Eden-VIR Is Antiviral: Results of a Post Marketing
Clinical Study. Published on August 12, 2013.
http://gene-eden-kill-virus.com/PP_Gene-Eden-VIR-is-Antiviral.pdf
polyDNA is a biotechnology company that develops dietary supplements using the unique scientific method developed by Dr. Hanan Polansky, which is based on Computer Intuition.
In addition to his unique scientific method, Dr. Polansky published the highly acclaimed scientific discovery, called Microcompetition with Foreign DNA. The discovery explains how foreign DNA fragments, and specifically, DNA of latent viruses, cause most major diseases.
polyDNA developed Gene-Eden-VIR , an antiviral natural remedy that helps the immune system kill latent viruses.