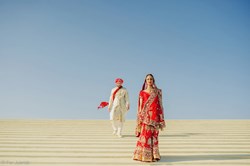 Discover the world of wedding photography on a new level.
(PRWEB) January 07, 2014
Chosen from nearly 10,000 images submitted from 43 countries around the world, Junebug's 6th annual Best of the Best Wedding Photo Collection features the 50 best images of 2013 from today's leading wedding and portrait photographers, including Todd Laffler, Daniele Vertelli, Ed Peers, Gabe McClintock, Daniel Aguilar, Fer Juaristi, Jonas Peterson, Erin Chrisman, Jeff Newsom, and numerous not to be missed rising stars.
Full of photos that will make you smile, tear-up, and laugh out loud, this extraordinary feature attracts tens of thousands of couples, photographers, and photo aficionados eager to find truly innovative imagery.
Launched on July 1st, 2006, Junebug Weddings is a women-owned business founded by former wedding photographers. Well known for their exclusive World's Best Wedding Photographers Hotlist, Junebug makes wedding planning easier for couples everywhere by providing visually compelling and encouraging editorial with an emphasis on personal style.