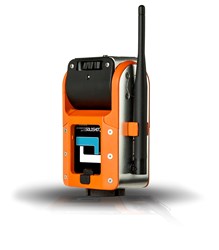 The new device continues to provide the industry's only true platform for athletes, trainers, parents and filmmakers to automatically film themselves or their subjects from up to 2,000 feet away.
Las Vegas, NV (PRWEB) January 07, 2014
Soloshot Inc, the leader in personal robot cameraman devices, today announced from CES the launch of their newest product, SOLOSHOT2. The new device continues to provide the industry's only true platform for athletes, trainers, parents and filmmakers to automatically film themselves or their subjects from up to 2,000 feet away. SOLOSHOT2 captures the true spectator's view as if the subject had their own dedicated professional cameraman tracking their every move -- not only providing the perfect compliment to the action camera angle, but also taking the selfie to a whole new level. SOLOSHOT2 is currently offered at a CES special pre-order price of $399.00.
SOLOSHOT2 includes all the new features fans and editors have requested including vertical tracking, camera control accessories for automatic zooming and start/pause recording, a smaller lighter transmitter and compatibility with 3rd party professional tripods.
The original SOLOSHOT product, which launched in 2012, solved a problem that has existed since cameras were invented: how to be in the moment and capture it at the same time. The solution was SOLOSHOT, a two-part system consisting of a transmitter worn by the subject and a motorized base, which automatically rotates to keep whatever camera is attached pointed towards the transmitter. Two years of solid customer feedback, technological advances and intense internal development has resulted in the SOLOSHOT2 platform, the breakthrough capabilities of which are listed below:
NEW FEATURES
SOLOSHOT2 Base

New vertical tracking +/- 60 degree up to 30 degrees per second.
Extended range from as close as 15 feet to as far as 2,000 feet while maintaining a tighter shot
Accessory dock for hardware expansion (examples include golf cart and boat mounting, accuracy booster, super long range, head tracking (base mimics the motion of users head), time lapse and touch screen).
USB port for charging, firmware upgrades and WiFi accessories for linking smartphones, tablets and other accessories.
Stronger motors for faster horizontal panning of heavy DSLR cameras up to 80 degrees per second, +/- 360 degrees continuously, while maintaining the exceptionally smooth motion at low speeds.
Accommodate cameras up to five pounds (including camcorders, DSLRs and smartphones).
Barrel mode – for continued smooth tracking of surfers even when they are riding deep inside a barreling wave.
Camera Control Modules (for specific camera models):

For use with certain camcorders, DSLRs and smartphones (currently with SONY's CX line of camcorders with additional models and brands to follow through firmware upgrades or separate accessory hardware).
Automatically controls camera zoom while tracking.
Transmitter can be used as a remote to toggle recording on and off while tracking up to 2,000 feet away.
Highlight command for use when continuously recording (continuous recording ensures you do not miss the unexpected while highlight command segments the footage for easy editing).
SOLOSHOT2 Networking Modes:

The networking feature allows users to link multiple units together to create a robotic production crew
Single base tracks a single transmitter - standard operation still allows multiple systems to be used in same location without interference.
Multiple bases track a single transmitter - capture the action from multiple angles.
Single base tracks multiple transmitters - base tracks the closest or fastest moving transmitter or whoever sends a "call camera" command from their transmitter.
Multiple bases track multiple transmitters - great for businesses, teams and events.
The various networking modes enable friends, teammates and businesses to mix and match SOLOSHOT2 bases and transmitters for shooting multiple angles and multiple subjects and for increasing coverage of a track, field or event.
SOLOSHOT2 Platform:

The multiple accessory ports and the networking capability make SOLOSHOT2 a true hardware and software platform for internal and crowd development.
CEO Chris Boyle describes a memorable moment after launching the company's first labor of love: "I remember being at a surf event in California right after we launched the first SOLOSHOT," he said. "A father watched as SOLOSHOT automatically filmed his daughter ripping across a wave and just kept saying 'This is a dream…this is a dream.' It was a pretty incredible moment. I can't wait to see the reaction to SOLOSHOT2!"
Today, SOLOSHOT is available in hundreds of stores around the world and has been used to film everything from rugby in London, to soccer practice in New York and surf sessions around the world.
SOLOSHOT and SOLOSHOT2 are both designed and manufactured in the USA by the same core team that started the company.
For more information or to purchase, please visit http://www.soloshot.com.
About SOLOSHOT
Headquartered in Texas, Soloshot, Inc designs and manufactures its SOLOSHOT line of robotic cameraman products and accessories, a first of its kind platform for the automatic tracking and filming (or photographing) of subjects from up to 2,000 ft away. Through its hands-on design and manufacturing facilities and it's proprietary hardware, software and processes, Soloshot, Inc gives the filmmaker, photographer or weekend warrior the tools necessary to capture incredible content – letting virtually anyone economically capture professional quality footage of themselves or their subjects doing what they love. The company has more than 20 issued and pending patents. For more information, visit http://www.soloshot.com.