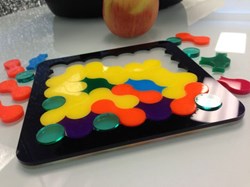 When it comes to puzzles like Roundominoes, I always like to say, your imagination is the limit. Acrylic puzzles never looked so amazing.
(PRWEB) January 07, 2014
Puzumi, a USA-based company specializing in creative and challenging acrylic puzzles, is proud to acknowledge several reviews of their puzzles in 2013, in addition to multiple awards. Puzumi puzzles have been around for over 20 years with over 30,000 overjoyed customers, but only recently have they begun gaining popularity and attention online.
Puzumi Puzzles are creative brain teasers that offer players with hundreds to even thousands of brainy and creative challenges, as well as multiple strategy games. Every puzzle offers a variety of difficulty-levels, from easy to extremely hard, and are ideal for both children and adults.
Roundominoes, the company's most popular puzzle, gained huge attention in 2013 and raked up a lot of positive reviews from Puzzle Lovers, and even ranked as the top puzzle of the year.
In October, Gabriel Fernandes (A long time puzzle collector) reviewed and gave a detailed walkthrough of Puzumi's Roundominoes. In his review, he stated "Roundominoes is among my absolute favorite puzzles in my collection. When it comes to puzzles like Roundominoes, I always like to say, your imagination is the limit. Acrylic puzzles never looked so amazing."
Puzumi had several of its puzzles reviewed and ranked among the Top 10 Puzzles by Puzzle Reviews, including Roundominoes which was awarded the Number 1 spot of "Best Overall Puzzle", and Iamonx Hex (Puzumi's most difficult puzzle) which also made the list at #4. Vee-21 and Rombix Jr, two other puzzles from Puzumi, were also awarded Best Puzzles for Kids.
Puzumi is steadily moving into the mainstream, with mentions from Podcastercon, referring to them as an "effective learning method while playing game[s]".
Vedprakash from HolidayGoddess also praised Puzumi Puzzles as a great tool for brain training. In his article, he proclaims "Puzumi puzzles are created with unique, colorful designs to add more attraction and fun when playing. A new skill is developed every time each of these puzzles is played. These allow people to stretch the muscles of their brain while having a good time doing it. It may work for people of all age groups."
Puzumi has always been focused on offering beautifully crafted, intelligent, and multi-functional puzzles for all ages and skill-levels. From seamlessly enhancing brain development and improving cognitive skills in young children, to offering engaging and dynamic brain teasing challenges and games for teens and adults. All of their two-dozen puzzles are designed and crafted in the USA, and include a full instruction booklet and an adjustable display stand.
To learn more about Puzumi Puzzles, you can visit their website at http://www.puzumi.com.