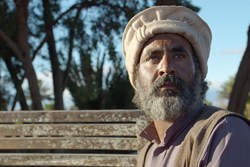 I tip my hat to NewFilmmakers LA. In such a diverse city as LA, it's good to know that there is a place such as NewFIlmmakers. - Director, Juan Uribe (Lo Azul Del Cielo)
Los Angeles, CA (PRWEB) January 07, 2014
NewFilmmakers LA Film Festival (NFMLA) rang in the New Year celebrating a wildly successful 2013. Last year, the festival announced newly established partnerships with SAG-AFTRA and Sony Pictures Entertainment.
In addition, NFMLA was thrilled to promote the success stories of NFMLA Alumni projects 'Record/Play' which was picked up by Focus Features and Oscar shortlisted, and 'Shadows of Liberty' which was picked up by PBS. Another noteworthy alumni project from 2013 was the documentary film 'Inocente' which won an Academy Award to Best Short Form Documentary.
On January 11th, Newfilmmakers LA Film Fest is premiering a slate of films by talented Directors from around the world. The Los Angeles based organization, which is staple in tinseltown for independent cinema, highlights a diverse collection of strong directorial debuts with Oscar & Emmy Nominated actors and awards winning artists. These selections aim to set the tone for independent film in 2014.
The NFMLA January 11th, 2014 lineup includes:
A New York Heartbeat (Dir. Tjardus Greidanus) - Brooklyn 1959: Spider, A 17 year old gang leader looking to make a rep, gets in way over his head when he steals a suitcase of money from a notorious gangster. On the run, he's taken in by a sheltered young woman and her reclusive uncle, a legendary mobster gunned down by Casket Mike, the same gangster now pursuing Spider.
Inspired by the hard boiled urban dramas that came out of Hollywood in the 40's and 50's, the action thriller written & directed by Dutch-born film Director Tjardus Greidanus and produced by his wife and established producer, Laura Davis, stars Escher Holloway (THE SECRET LIVES OF DORKS), the lovely Rachel Brosnahan (Netflix - HOUSE OF CARDS) and crowd pleaser Eric Roberts (THE EXPENDABLES, THE DARK KNIGHT).
Writing in his second language, Tjardus successfully captures the vernacular of the New York underworld of that era with a script that was a semi-finalist for the Academy of Motion Picture Arts & Sciences Nicholl Fellowships.
Present Trauma (Dir. Mark Manalo) - a psychological drama about Keith, a Marine veteran struggling to cope with family life after a combat tour overseas. When Keith decides to take in a stray dog, it ends up changing his life in a way that he and his family never expected.
One of three hand selected films for development from the USC School of Cinematic Arts Filmmaking Program, the picture offers exceptional performances by Patrick Fluger (NBC - CHICAGO PD, USA Network – THE 4400), Alimi Ballard (CBS - NUMB3RS) and Bre Blair (CBS Films - LAST VEGAS).
Mediation (Dir. Francisco Lorite) - A divorce mediation spins way out of control for a husband, his soon-to-be ex-wife and their court-appointed mediator.
From Spain, Francisco Lorite wrote and directed his first film at 14 and left for the US six years later. While in NYC, he appeared in Off-Broadway plays, indie films and also became a member of the Shakespeare Lab at the celebrated Joseph Papp Public Theatre.
In 2005, film Director Francisco wrote and directed a ten-minute dark comedy called "Cuco Gomez-Gomez is Dead!" The no-budget piece Screened and broadcast won five awards --including the prestigious Imagen Award for Best Theatrical Short.
Mediation features television star Freddy Rodriguez (HBO - SIX FEET UNDER, ABC - UGLY BETTY) alongside actress Marty Shelton (CBS - ELEVENTH HOUR, Dimension Films – SIN CITY).
King Eternal (Dir. Christiano Dias) - A short film about a young boy who uses his hyperactive, action-figure, water gun slinging imagination to cope with his parent's divorce. A unique coming of age story with a flare for the magic of imagination.
Recipient of the prestigious CINE Golden Eagle Award, King Eternal was created by Christiano Dias, who is a multi-award winning writer/director that's been nominated for a Lone Star Emmy Award from The National Academy of Television Arts & Sciences and most recently, recognized at the international film festival, Cannes Film Festival Short Film Corner.
The playful short film features Golden Globe recipient Joseph Bottoms.
Drone strike (Dir. Chris Richmond) - A day in the life of a devoted father and serving RAF drone pilot - juggling the normality of his domestic life with the warped reality of firing Hellfire missiles 4000 miles away in Afghanistan - and how one fateful decision shatters his conviction.
Already screening at film festivals around the world and garnering 4 star critical reviews in London, the film features an International cast and crew with award winning Cinematographer, Franklin Dow. Drone Strike is a stellar debut for Writer/Director Chris Richmond with support by Producer Alan Heap (ATTICUS FINCH, PURPLE MONSTER).
Abduction (Dir. Timothy Earle & Ian Wexler) – A short film about a group of men who stage elaborate fake alien abductions for the purpose of raising awareness about aliens. When an 'abduction' doesn't go according to plan, the group must decide how to deal with their mistake.
Lialou (Dir. Karolis Spinkis) – A quirky comedy from Germany about Lou , who reads life stories out of shoes. Lia is looking for the big change. One day they meet and find out what is missing in this world, Colorful shoelaces and something that everyone already has.
Retire for the Evening (Dir. Ed Hellman) - On New Years Eve, a ventriloquist dies in his New York apartment; his beloved sock puppet struggles to continue performing their act on his own, dragging the dead body behind him.
Hiccup (Dir. Alyssa Radmand & Griffin Devine) - A man with chronic hiccups struggles with the affliction over 15 years, until he discovers a unique fix for the problem.
Tonight's the Night (Dir. Satinder Kaur) - The story of eighteen year old Alicia Rodriquez, who is deploying to Iraq the next morning. But before she leaves, she has one wish - to lose her virginity. With the clock ticking and the obstacles mounting, Alicia discovers that growing up is not all that it is made up to be.
Located in Downtown Los Angeles, AT&T Center is the Presenting Venue Sponsor of NewFilmmakers Los Angeles. Producer's Circle Sponsors include SAG-AFTRA and Wells Fargo. For more information and to purchase tickets for the NewFilmmakers LA Film Festival on Janaury 11th, 2014, please visit http://www.newfilmmakersla.com/.