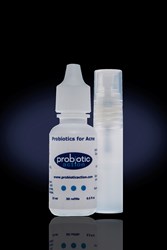 Probiotics have proven to be a major game changer when it comes to natural skin care.
Miami, FL (PRWEB) January 07, 2014
Probiotic Action reacted to a recently published article which discusses how certain strains of probiotics can be consumed as oral supplements in order to help alleviate the symptoms of lactose intolerance, which are a widespread condition, particularly among certain ethnic groups.
The article, published on SouthCountyMail.com, reports that, according to dietician and nutritionist Annie Jolicoeur, "The quality and quantity of your intestinal bacteria can play an important role in your ability to tolerate dairy products. By taking certain kinds of probiotics and consuming fermented dairy on a regular basis, you can improve, if not eliminate, many of the symptoms of lactose intolerance that come with eating dairy." The article quotes Jolicoeur, who says, "According to several studies, some probiotic strains, such as Streptococcus thermophilus and Lactobacillus bulgaricus, found, for example, in all Probaclac probiotic supplements, are known to help lactose digestion. These probiotics help to improve lactase synthesis in order to allow better lactose absorption."
Probiotic Action spokesperson Fernando Perez isn't surprised by these findings at all. He says, "Probiotics are fast becoming the best way to address a large, diverse number of human ailments. The human stomach needs to maintain a proper balance of probiotics in order to keep the human body healthy and perform its duty of processing food. If the balance of probiotics is offset, taking an extra probiotic supplement to help other conditions is a wise course of action that may provide unknown, added benefits."
Continuing that line of thought, Perez says, "Probiotics have proven to be a major game changer when it comes to natural acne cream. The more work that goes in to unlocking the benefits of probiotics, the more common conditions and ailments can be addressed and eliminated."
Probiotic Action, a pioneer in natural acne remedies, follows all probiotic-associated products to collect information in order to help educate the public on the power of probiotics for skin care and overall health. For more information, please visit ProbioticAction.com.