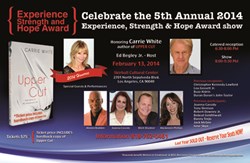 I am thrilled to receive this award because it's recognition for the thing I'm most proud of: turning my life around and getting sober," said Carrie White, author of "Upper Cut."
(PRWEB) January 07, 2014
Writers In Treatment will honor Carrie White, Hollywood hairdresser to the stars and the author of "Upper Cut," with the 'Experience, Strength and Hope Award' on Thursday, February 13, 2013 at the Skirball Cultural Center. Ed Begley Jr. will host the event and actress Joanna Cassidy (Body of Proof, Blade Runner) will present the award to Carrie White. The evening will also feature two hilarious performances by stand-up comedians Alonzo Bodden and Ritch Shydner as well as a special guest appearance by actress Mackenzie Phillips from "One Day at a Time."
The 'Experience, Strength and Hope Award' is given to well-known individuals who have written courageous and honest memoirs about their journey from addiction to recovery. Past honorees include Duran Duran's John Taylor, astronaut Buzz Aldrin and Academy Award winning actor Louis Gossett, Jr.
White's autobiography, "Upper Cut," details her life as the "First Lady of Hairdressing" during the '60s, '70s and '80s—collaborating with Richard Avedon on shoots for Vogue, partying with Jim Morrison, giving Sharon Tate her signature California style, getting high with Jimi Hendrix, and counting Jennifer Jones, Elizabeth Taylor and Goldie Hawn among her favorite clients.
But behind the glamorous façade, Carrie's world was in perpetual disarray and always had been. After her father abandoned the family, she was sexually abused by her domineering stepfather, and her alcoholic mother was unstable and unreliable. Carrie was sipping cocktails before her 10th birthday and had five children and three husbands before her 28th. She fueled the frenetic pace of her professional life with a steady diet of champagne and vodka, diet pills, cocaine and heroin, until she eventually lost her home, her car, her career—and nearly her children. But she battled her way back, getting sober, rebuilding her relationships and her reputation as a hairdresser, and today, the name Carrie White is once again on the door of one of Beverly Hills's most respected salons.
"I am thrilled to receive this award because it's recognition for the thing I'm most proud of: turning my life around and getting sober—plus I'm so honored to be celebrated as a writer by Writers In Treatment!" said White. "My hope in writing the book was that people who are struggling with addiction might be initially attracted to the Hollywood tales, but then discover an even more important story: how you can save yourself and create a brand-new, healthy, and successful life."
Writers In Treatment founder Leonard Buschel commented, "This award was created to recognize people who help transform people's lives by courageously sharing the story of their own journey through addiction to recovery. Carrie's book does that in a remarkable way: by being completely honest, truly insightful, and an immensely entertaining read, all at the same time! I truly think she will change lives thanks to 'Upper Cut.'"
The charity event is a celebration of the benefits of clean and sober living and the importance of humor in the recovery process. Tickets are $75 per person and include a copy of "Upper Cut." All proceeds benefit Writers In Treatment's Jewelle Sturm Memorial Scholarship Fund.
The Skirball Cultural Center is located at 2701 N. Sepulveda Blvd, Los Angeles, CA 90049.
For more information and to purchase tickets, visit http://www.WritersInTreatment.org or contact Leonard Buschel at (818) 762-0461.
###
About Writers In Treatment
Writers In Treatment is a 501(c)(3) non-profit organization grounded in the arts and recovery fields. W.I.T.'s primary purpose is to save lives through promoting and providing 'treatment' as the best first step solution for addiction, alcoholism and other self-destructive behaviors. http://www.writersintreatment.org The international REEL Recovery Film Festival is a production of W.I.T. http://www.reelrecoveryfilmfestival.org.