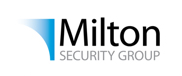 Small Businesses are under attack, and Milton Security can solve that problem today
Fullerton, CA (PRWEB) January 05, 2014
Milton Security Group, Inc, a privately held network security provider announces the Milton Secure WiFi Small Business Bundle
"We saw that small businesses needed an all-in-one solution for adding secure WiFi, so we came up with the idea of the Small Business Bundle," CEO Jim McMurry explained. "With our Edge Adaptive NAC product line, BYOD is our strong suite for security. Turning that into a drop-in product was something we felt would provide tremendous value for our customers."
Included in the Secure WiFi Small Business Bundle are the following:
3 Ubiquiti Access Points, setup in a mesh to provide the widest possible coverage.
A PoE switch to provide power and network connection to each AP.
A Milton Edge 7200Exi Adaptive Network Access Box to continuously monitor and control security on your network.
The entire bundle comes preconfigured with a simple setup to make it very easy to install and begin using immediately.
The Milton Secure WiFi Small Business Bundle is priced as a leased capability or as a purchasable product.
The Leased Option runs $450 per month and includes the following:
365 days of hardware warranty
Unlimited Support Incidents
Unlimited OS Updates
Advanced Ship on hardware replacements
The Purchasable Option runs $2999.99 and includes the following:
90 days of hardware warranty (upgradable to 1 Year)
1 Support Incident (additional incidents are available)
1 OS Update
7 Day turnaround on hardware support
"Whether you are adding guest WiFi to your coffee shop or opening the doors for your corporate BYOD capability, our solution can keep your network secure without creating a management nightmare", said McMurry.
If you are interested in finding out more about the Milton Secure WiFi Small Business Bundle or have any questions, please contact Charles Fladger at chf(at)miltonsecurity(dot)com or Evan Tremper at ett(at)miltonsecurity(dot)com. You can also call us at 714-515-4011.
For more information :
Milton Security Group
http://goo.gl/yO7pmb
About Milton Security Group, Inc:
Milton Security Group INC is the Bring Your Own Device enabler for your organization. Our product lineup enables granular control over all devices on your network. Milton Security Group, Inc. offers the first low cost adaptive endpoint and network access control suite of products. Founded in 2007, Milton Security Group has enabled organizations, from Federal & State Agencies, Cities & Counties, Public & Private Universities, Hospitals, Small and Mid-size corporations to protect their internal network systems and endpoints.
#######