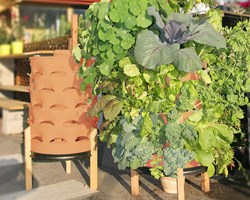 This is the solution for food deserts......this is exactly what our cities need. -- Will Allen, Growing Power (Milwaukee, WI)
Bloomington, IN (PRWEB) January 06, 2014
As intensive urban gardening becomes increasingly important around the globe, the need has arisen for a simple solution that allows gardeners to easily and conveniently grow large amounts of quality produce in small spaces. The innovative Garden Tower is a space-saving patio farm that allows gardeners to grow up to 50 plants vertically and compactly inside a footprint of only four square feet. The patented Garden Tower is unique in containing a central composting core containing redworms, which digest ordinary kitchen scraps that would otherwise be thrown out. Because of this ability to combine gardening with composting, the Garden Tower is self-fertilizing. The newest version of Garden Tower was recently released in a terracotta color as a response to customer feedback.
A sophisticated form of vertical container gardening, each Garden Tower is a robust vertical planter-composter that rests on three oak legs. Seedlings are placed in the many side openings or around the top of the Tower. Using this device, gardening becomes possible in locations that have never been able to nourish plants before: flat rooftops, concrete slabs, even ordinary decks. After it has been assembled and filled with planting mix, the Garden Tower requires no tilling, digging or heavy labor.
At the bottom of the Tower, a container captures any overflow from watering along with leachate from the vermicomposting process. Pouring the contents of this container over the top of the Garden Tower will increase the soil's nutrition over time. A handy trapdoor at the bottom allows the gardener to harvest finished vermicompost and worm castings, which can be distributed again at the top of the Garden Tower. Unlike standard container gardening, which results in soil that quickly becomes depleted, the built-in vermicomposting element ensures that the potting blend inside the Garden Tower will grow richer over time. This self-fertilizing ability allows the Tower to nourish extraordinary amounts of fresh organic food.
Yielding a bounty of lush, nutritious organic vegetables and fruits, the Garden Tower represents a revolution in gardening. It brings the ability to grow plants to urban environments and offers a complete gardening solution to the elderly and to individuals with mobility challenges. Designed with accessibility in mind, the Garden Tower is ideal for patios, urban stoops, sidewalks and small balconies, any location which receives sun for at least seven hours each day. Also used by ordinary gardeners to augment larger gardens, it's a convenient way to grow herbs or greens close to the back door.
Last year, the Garden Tower Project met with enormous success in its KickStarter campaign, raising 300 percent more than its fundraising goal of $28,000. With sales in 2013 that exceeded $325K, Garden Towers are now being used to grow food in 50 states as well as seven Canadian provinces. Since then, the Project has partnered with a HUD community group in California which places Garden Towers at low-income homes and has also begun working with schools across the country to develop hands-on ecological curricula.
The Garden Tower's vertical garden and composter has received rave reviews from the likes of Michelle Obama's personal gardener, Will Allen. Mr. Allen observed, "This is the solution for food deserts......this is exactly what our cities need." Another favorable testimonal came from Advanced Master Gardener and educator Michael Simmons, who observed, "I planted a fall garden in 2011 in two prototypes of the Garden Tower. Crops included kale, collards, cabbage, broccoli, spinach, arugula, leaf lettuces, chives, garlic chives, sage, marjoram, and parsley. The results were astounding. In March, I still have kale, collards, and herbs that overwintered in the units and continue to flourish. The Garden Tower interested me in particular because I have back problems that limit my ability to bend in the garden. The Garden Tower's elevated growing spaces made it easy for me to care for my plants without stressing my back." And home-and-garden journalist Carrol Krause noted, "The Garden Tower excels at nurturing herbs and vegetables that enjoy warmth and light. It's an entire garden bed compressed into a small footprint. When vegetables are interspersed with nasturtiums or petunias, the visual effect is glorious." (Additional testimonials at http://www.gardentowerproject.com/testimonials)
Whether it's used on inner city stoops, in suburbs, or in developing nations, the Garden Tower brings access to fresh organic produce to all, regardless of the growers' proximity to farmland and gardens. This is the gardening invention that will bring food to hungry millions. "Think globally; grow locally."
About the Garden Tower Project:
Leaders in the field of accessible gardening, the Garden Tower Project is a socially responsible business concept based in Bloomington, Indiana. The Garden Tower Project strives to ensure easy availability of fresh, organic food to populations who lack access and/or ability to grow their own food. The goal of the company is to enable organic food production that is innovative, collaborative, and affordable. The Garden Tower Project will allow individuals and communities to become more self-sufficient and sustainable, ultimately creating a more resilient local economy. The Garden Tower Project envisions a world enhanced by easier gardening, healthier produce, and food security for all.