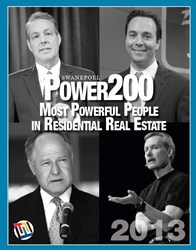 "Power is an elusive concept."
Orange County, CA (PRWEB) January 09, 2014
The Swanepoel Power 200 (SP200) is the most comprehensive list of influential CEOs, Thought Leaders and Senior Executives ever assembled in the residential real estate brokerage business. Respected trends analyst and New York Times, Wall Street Journal and USA Today bestselling author of over 25 books, Stefan Swanepoel, brings new insight to the multifaceted real estate industry. For the first time, a meticulous analysis now ranks all leaders including franchise executives, real estate brokers, speakers, authors, educators, economists, technologists, media executives and social media networkers.
Topping the SP200 is Realogy's CEO, Richard A. Smith. "Smith, the Chairman, CEO, and President of Realogy, is our selection as the Most Powerful Person in residential real estate brokerage for 2013. While there are others who have higher personal profiles, within the industry there is no doubt that none have more power and influence in almost every aspect of real estate than Smith."
"A few years ago Realogy was groaning under a massive burden of debt incurred as part of Cendant's corporate restructuring. Then the real estate market tanked and many in the real estate industry as well as on Wall Street simply wrote off Realogy. With rigorous and painful cost-cutting measures, deft renegotiation of its debts, and a hundred other large and small moves, Realogy slowly climbed back from the brink. In October of 2012 Smith led Realogy to the second largest initial public offerings of the year behind Facebook. Realogy owns half of the top 10 brands in the industry: Coldwell Banker Century 21, Sotheby's International Realty, ERA and Better Homes and Gardens. With approximately 13,600 franchised and company-owned offices and over 240,000 brokers and agents worldwide, Realogy touches one out of every four home sales in America. That's dominance, and as Realogy's overall leader for over 17 years, Smith, wields more power over this group than anyone else."
Ranked second Most Powerful Person in Real Estate is Ron J. Peltier, the man atop the HomeServices of America (a Berkshire Hathaway company) conglomerate. During the last 15 months , HomeServices of America orchestrated the biggest acquisition in the industry in recent times, grabbing two top 10 franchise networks at the same time—Prudential and Real Living. This led to a dazzling rebranding plan and the launch of a significant national new brand, Berkshire Hathaway HomeServices. Peltier has been the Chief Executive Officer of HomeServices of America Inc. since its inception in July 1999 and now also serves as the CEO of Berkshire Hathaway HomeServices.
Spencer Rascoff, CEO of Zillow, one of the 1,000 largest websites in the world and with over 50 million unique visits per month, also the largest real estate website in the world, was listed third on the SP200. Starting last month Zillow now also powers the AOL Real Estate's home search. "Its growth in revenues and subscribers has been nothing short of spectacular. Zillow's and Spencer's increasing presence in the policy arena, including a webcast with President Obama on housing issues and a joint forum with the influential Bipartisan Policy Center in Washington DC, has raised Zillow's profile, considerably," Swanepoel said.
According to Rob Hahn, co-editor of the Swanepoel Power 200, rankings are based on multiple criteria that take into account the individual's personal influence, his/her tenure in the industry, the office he or she holds, the decision-making power of said office, the financial resources of the company or organization, the company or organization's significance and contribution to the industry, the company's geographic reach, and his or her recent activities, growth, and potential. Although everyone will have their own opinion, the SP200 stands as a milestone to help multidisciplinary industry participants. (You can join both authors of the report on facebook to discuss rankings and provide enhancements to the list). "It serves to identify those that influence, impact and lead the residential brokerage industry," Swanepoel said. And he should know as, for the past nine years, Swanepoel has been the author of the only annual real estate report covering trends and change, The Swanepoel TRENDS Report, deciphering and detailing the annual trends, technology and new business models impacting the industry. Swanepoel has served as president of seven companies and two non-profit organizations, and his academic accomplishments include a bachelor's in science and a master's in business economics. His 30,000-foot purview and 20-year research of the industry brings depth and breadth to this groundbreaking list.
For details on all the rankings or to download the entire list of 200 visit http://www.SP200.com