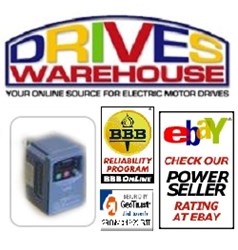 DrivesWarehouse.com announces new products AC Drives Variable Frequency Drives Hitachi SJ700B series are available online.
Dallas, TX (PRWEB) January 07, 2014
The SJ700B significantly expands on the performance, capabilities and functions of its predecessor, the L700. It develops 120% of full torque capabilities at 0 Hz in "0 Hz Domain" sensorless vector control mode, as well as 150% torque at 0.5 Hz in sensorless vector operation mode in most models, which is ideal for a wide range of applications beyond just fans and pumps. Additionally, operation in the closed-loop full vector control mode is now possible as well through an optional board. The SJ700B also has a number of built-in features that make the commissioning process quick and the operation of the control trouble-free.
Another notable upgrade in the SJ700B is the higher operating temperature range of -10°C to 45°C . It also includes the patented micro-surge voltage suppression to protect the motor winding insulation, advanced trip avoidance functions, configurable sink/source logic on digital inputs, PID, built-in dynamic braking circuit in models up to 40 HP (30 kW,) and built-in EMC filters in all models.
The SJ700B can be configured via the front-mounted keypad or using ProDriveNext PC-based software. A truly globally accepted product, the SJ700B is CE, UL, c-Tick-certified and RoHS-compliant.
The complete new products' list is available for customers to search online at AC Drives Variable Frequency Drives SJ700B Series.
In order to provide better views of products, DrivesWarehouse added "product rating" function at end of each product detail page and it is a window for customers to provide their feedbacks on each product. Based on overall ratings, new customers are easy to make their choices.
DrivesWarehouse.com offers over 50 years of experience and know how in the electric motor drives business. They stock a wide variety of AC Drives and DC Drives from well known manufacturers like Hitachi, Polyspede, and HYUNDAI in a range of configurations. All products from driveswarehouse are backed by a 12 month warranty and expert tech support.
Drives Warehouse
One Stop Online Shop for AC Drives, DC Drives, Variable Frequency Drives (VFD) and Variable Speed Drives