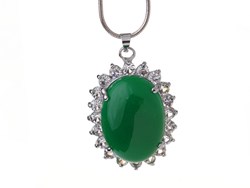 New Inlaid Malaysian Jade Jewelry Now Available On Aypearl.com
Beijing, China (PRWEB) January 06, 2014
Recently, Aypearl.com, the best China jewelry supplier online, has announced a new series of green color inlaid Malaysian jade jewelry, which has amazing style and fascinating color. The new jewelry includes pendant necklaces, drop earrings, studs and brooches.
Malaysian jade is a perfect substitute to jadeite. Jadeite is much too expensive and lots of people can't afford it. However, Malaysian jade has similar look to jadeite, but the prices are a lot lower than jadeite's. This new series of Malaysian jade has amazing green color, various shape and irresistible charm.
Malaysian jade can help to calm people down and get rid of all the bad tempers. It can help to cure heart diseases and hypertension, and also, its pretty green color is said to bring good fortune, that is why Malaysian jade is more and more popular in recent years. If you are interested in Malaysian jade jewelry, you are always welcomed to visit aypearl.com.
About Aypearl.com
As the leading supplier of women's jewelry, Aypearl's concept is to make women more beautiful by offering unique design and high quality women's jewelry to each customer. Good customer service, high-quality, fast delivery, and competitive prices, are the reasons to choose Aypearl. Welcome to wholesale jewelry from Aypearl.com .
Contact aypearl.com
Phone: 86-10-58697219
City: Beijing
Country: China
Postal Code: 100022
Email: aypearl(at)gmail(dot)com
Address: 2801 Building 8, Jianwai SOHO,39 East 3rd-Ring Road, Chaoyang Dist., Beijing, China
For more information about inlaid Malaysian jade jewelry, please visit http://www.aypearl.com/new-products/