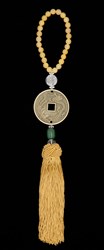 Napa. California (PRWEB) January 06, 2014
In this season of New Year's resolutions, a unique product called DRAGONmedallions offers a total package for increasing the likelihood of goal achievement. These tangible meditation tools associate the Chinese Dragon's action-oriented power and energy with desired New Year's resolutions. Developed by planning consultant and lifestyle accessory designer Barbara Bacigalupi, DRAGONmedallions are the centerpiece of a complete package of easy to follow instructions and simple forms needed to make New Year's resolutions stick, and are for sale at her website store for $39.00.
Bacigalupi's change-making process is a two-pronged approach that includes the formation of an irresistible VISION of how much better the future can be, as well as a step-by-step STRUCTURE for getting from point A to point B. This approach is unique in that it combines both the usual left brain linear thinking methods for tracking progress with right brain visualization that is often missing from goal achievement programs. Because goals focus on behavioral change, they are typically intangible and easy to avoid. Bacigalupi wanted to overcome this limitation by creating a visualization tool that would be a constant symbol for giving the goal priority attention in daily life. What was needed was a compelling, but fun and engaging character, that embodies the positive traits necessary for goal accomplishment.
"The Chinese Dragon that I have enjoyed throughout my life, dancing in San Francisco Chinese New Year's Parades, has so much personality and plain old sex appeal, that he became my immediate choice for the visual symbol," comments Bacigalupi, who also advocates waiting past post-holiday fatigue until Chinese New Year's to start a life change program. "The Dragon is a veritable bundle of energy and tenacity, and as the symbol for daytime, light, and the all-powerful Emperor, makes for a perfect representation of the qualities needed in any person who wants to achieve a better life." concludes Bacigalupi. "With DRAGONmedallions, the life goal can be metaphorically associated with the Dragon's image in the person's mind, which in turn can be used to keep focus on continuing, daily decision-making in support of the goal," concludes Bacigalupi.
The image of the Chinese Dragon which has always been considered by the ancient Chinese to be the most auspicious mythological creature, is the centerpiece of Bacigalupi's new DRAGONmedallions for Power and Energy in the form of replica ancient Chinese Coin that was most popular during the Chang Dynasty (beginning in 1644-1911), and which also happens to form the basis of Feng Shui. The coin depicts the traditional presentation of the Dragon, which is paired with the Phoenix Bird, symbolizing his Empress and love.
"The ability to create symbols through a metaphoric process is a unique characteristic that defines us as human beings and occurs in the right or creative side of our brains," continues Bacigalupi. "We don't often think about the powerful role that symbolism has fulfilled for rallying change throughout human history -- across all cultures, religions and countries -- but symbolism is almost always present when major change occurs. Adopting the Chinese Dragon can make an otherwise invisible goal, tangible and emotionally compelling," concludes Bacigalupi.
As part of the instructional guide FIVE STEPS TO SUCCESS, a person is asked to visit their DRAGONmedallion as part of a Daily Practice that focuses on breaking the resolution into small, bite-sized goals that are assessed and improved upon during a nightly reflection. Intended as a universal approach for change, FIVE STEPS TO SUCCESS and DRAGONmedallions can be combined with any other available system, whether a diet, exercise or other plan. Also Included are planning forms for making a Contract with Yourself, Developing a Goal Strategy that will overcome obstacles, and a Weekly Journal to record the results from the Daily Practice exercise.
Bacigalupi's designs for DRAGONmedallions are deliberately intended to appeal to the senses, with varying colors and a mix of textural qualities that beg to be touched. The medallion coin centerpiece in DRAGONmedallions is surrounded by natural, semi-precious minerals including a rock quartz crystal bead carved with the ancient Chinese Shou symbol for long life and prosperity, which just happens to be the ultimate and most fundamental reason for pursuing any type of New Year's resolution. A loop of natural mineral beads makes for easy display on door handles, drawer pulls, candles, vases and so much more. A Turkish knot tassel completes and refines the textural quality of the design.
DRAGONmedallions are available at http://store.barbarabacigalupi.com/dragonmedallions.html. For a limited time, in addition to special value pricing, a complimentary copy of Bacigalupi's classic personal growth book Truly Human - An Invitation to think in new and powerful ways, is included with every $39.00 purchase of DRAGONmedallions. Continued releases in the DRAGONmedallion series focusing on such important topics as financial prosperity and health care issues including breast cancer and pain management, are planned for release in the coming months.
ABOUT THE COMPANY
UMANO Inc, named for the Italian word meaning human, humane and compassionate, was founded by Barbara Bacigalupi in San Francisco in 1997 and then relocated to California's Napa Valley late in 2007. As a concept-based company, it's purpose is to serve as a vehicle for the publication of Bacigalupi's writings and the production/marketing of her design lines. The hallmark product line of TRULYHUMANmedallions has been sold for the past ten years and is respected by consumers for the inherent natural gemstone beauty, quality of human handwork, and the human values they foster through learning messages. All design products are made by hand in Northern California using components collected from around the world and the complete collection is only available at http://www.BarbaraBacigalupi.com. Bacigalupi's Truly Human philosophy of holistic thinking is presented at http://www.TrulyHuman.com.