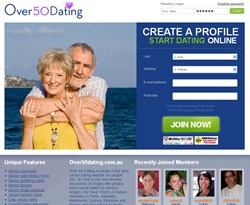 (PRWEB) January 10, 2014
For Australians age 50+ looking to get back into the dating scene to find love, Over 50 Dating today announced it has launched its brand new website to bring love to the whole of Australia and beyond. This new online dating site puts to bed the stories that the over 50s do not date and helps men and women to find love with the tools and resources they need.
In today's world it is not uncommon for men and women to be single in their 50s and beyond. Some may be single through divorce, some may be single through being separated and some may have never found love. More 50 plus single men and women in Australia are now looking for love and thanks to 'Over 50 Dating Australia' and their internet dating website which provides a comfortable environment to get to know other like-minded single people, fun could just be a click away.
50 is now the new 30 and many older Australians are fun, active and excited about meeting new people for fun, dating and love, so the Over 50 Dating Australia website is ideal for them to meet people in a safe environment before deciding if they want to take the next step and go on a romantic date. The dating site can be accessed at over50dating.com.au where it is free to register and members can browse through the thousands of single mature men and women.
If you are over 50 and looking for friendship then please visit the Over 50 Dating Australian website.