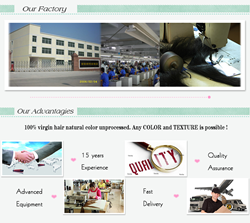 (PRWEB) January 06, 2014
Recently, EQhair.net, a leading hair weave manufacturer and retailer, announced its new products of loose wave Philippines virgin hair extensions (http://www.eqhair.net/Philippines-virgin-hair-loose-wave-top-quality.html). According to the spokesman for the company, they will release more designs to satisfy the great demand for fashionable hair extensions.
The Philippines virgin hair extensions from EQhair.net are offered in different lengths (8 to 32 inches) and styles (straight, wave or curl). Each hair extension comes in about 95-100g in weight. They are made with I00% Philippines virgin hair. EQhair.net strives to give customers quality assurance with its 15 years' experience in the industry, fast delivery and advanced equipments.
The spokesman says, "Hair is said to be a woman's most powerful display of beauty. Our hair extensions are hair extensions are easy-to-use products, and you can have a fantastic hair style in a few minutes. Everything is easy here. Our hair extensions are specifically designed to allow ladies the freedom of choice. Curl, crimp, natural wave, up-do, or straight, it is up to you! Just about anything you can do to your natural hair."
EQhair is making its collection of hair weave extensions as a great choice for women who are looking for an easy way to incorporate a trendy hair solution into their practice. Whilst promoting elegant designs of hair products to clients worldwide, the company has developed as a leading hair weave company in the industry.
About EQhair
EQhair is a leading hair extension wholesaler and retailer. With over 15 years of experience in the industry, EQhair offers a wide range of fashionable hair products at reasonable prices. Its producst are available in 14 shades (from the lightest blondes to the darkest black). EQhair is devoted to providng high qaulity hair extensions for the ladies worldwide, and it welcome any request and review from customers worldwide. More details at http://www.eqhair.net/.