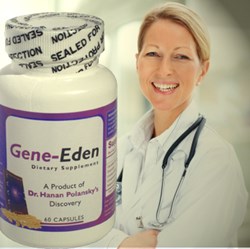 HPV infects almost everybody once they start having sex. It then enters into a latent state. We recommend helping the immune system to target the latent Human Papillomavirus with Gene-Eden-VIR. – Mike Evans, polyDNA
Rochester, NY (PRWEB) January 13, 2014
Gay male teens may acquire the HPV virus very soon after they first become sexually active. As an article published on December 5, 2013 by the Reuters news agency reported, "Previous research has suggested most adult gay men have the sexually transmitted infection. HPV is usually cleared by the immune system but can cause genital warts and anal cancer… (2)." polyDNA recommends Gene-Eden-VIR to Gay men to help the immune system target the latent HPV. This natural product was clinically proven to reduce symptoms of HPV infections in a study that followed FDA guidelines.
Study authors further wrote that "...data from this study suggest(s) a greater prevalence of anal HPV among teenage MSM, (that is), from men with limited sexual experience to those who have accrued an increasing number of receptive anal sex partners. This applied to anal HPV 16 specifically, the HPV type most commonly found in anal cancers (1)."
Study authors further wrote that Gay teenagers who have had at least four sexual partners are at increased risk of contracting HPV (1). Senior study author Marcus Y. Chen said "In this study we found rates of anal infection increased rapidly with increasing numbers of partners with whom they have received anal sex. The virus is presumably being transmitted from penis to anus."
Interestingly, some young gay men reported never receiving anal sex, yet tested positive for anal HPV anyway. This suggests the virus can be transmitted in other ways (2).
Finally, Dr. Chen noted that "About 7,000 people in the U.S. will be diagnosed with anal cancer in 2013, according to the American Cancer Society. Rates are higher among gay men than heterosexual people (2)."
"HPV is the most commonly transmitted sexually transmitted disease. Once acquired, the virus then enters into a latent state. We recommend helping the immune system to target the latent Human Papillomavirus with Gene-Eden-VIR." – Mike Evans, polyDNA
People infected with the latent HPV virus can ask their doctors about Gene-Eden-VIR, or they can go online to learn more. Gene-Eden-VIR is a safe, natural product that was proven to reduce HPV symptoms in a clinical study published in the peer reviewed, medical journal Pharmacology & Pharmacy, in a special edition on Advances in Antiviral Drugs on August 12, 2013.
The study showed that Gene-Eden-VIR reduced HPV symptoms and was safe and effective (3. "Up to 70% of those studied reported a decrease in HPV symptoms (3."
Each ingredient of Gene-Eden-VIR was chosen through a scientific approach. Scientists scanned thousands of scientific and medical papers published in various medical and scientific journals around the world to identify the safest, most effective natural ingredients that target the latent form of HPV (3)
Doctors can view the paper on Gene-Eden-VIR here: http://gene-eden-kill-virus.com/PP_Gene-Eden-VIR-is-Antiviral.pdf.
To learn more about Gene-Eden-VIR and HPV, visit http://gene-eden-kill-virus.com/HPV-Remedy.php. All orders of Gene-Eden-VIR are completely confidential, and no information is shared or sold to any third party. Privacy is assured.
Reference:
(1) Early acquisition of anogenital human papillomavirus among teenage
men who have sex with men. Published on November 21, 2013.
http://www.ncbi.nlm.nih.gov/pubmed/24265440
(2) HPV common among sexually active young gay men. Published on December 5, 2013.
http://www.reuters.com/article/2013/12/05/us-hpv-common-idUSBRE9B40OB20131205
(3) Gene-Eden-VIR Is Antiviral: Results of a Post Marketing Clinical Study. Published on August 12, 2013.
http://gene-eden-kill-virus.com/PP_Gene-Eden-VIR-is-Antiviral.pdf
polyDNA is a biotechnology company that develops dietary supplements using the unique scientific method developed by Dr. Hanan Polansky, which is based on Computer Intuition.
In addition to his unique scientific method, Dr. Polansky published the highly acclaimed scientific discovery, called Microcompetition with Foreign DNA. The discovery explains how foreign DNA fragments, and specifically, DNA of latent viruses, cause most major diseases.
polyDNA developed Gene-Eden-VIR , an antiviral natural remedy that helps the immune system kill latent viruses.