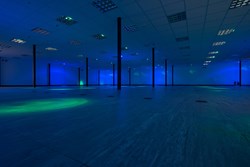 We believe that the new-year is the perfect time to re-evaluate your current commitments and are happy to offer 50% off our rack rental fees until 31st March 2014.
Reading, Berkshire (PRWEB UK) 7 January 2014
Everest Data Centres, a new Tier 4 aligned data centre operator based in Reading, has launched its new colocation promotion, starting on 6th January 2014.
Their new high-specification facility has been designed and built-in house and boasts some excellent features, that utilise the latest energy saving techniques to lower the cost of housing your 'cloud in the cloud,' outsourcing your existing in-house infrastructure or hosting your e-commerce platform in a secure, temperature controlled facility with N+N redundancy throughout.
Ricky Blaikie, Sales Manager of Everest Data Centres, thinks this is the perfect facility for those organisations wanting the highest service levels whilst still at a price-point that is very competitive. He says, 'We are finding that many organisations are now not so concerned about the distance away from the centre of London and in many cases prefer to be outside of the M25. As we operate our own fibre-ring through Slough and the Docklands rather than leasing capacity from a provider, latency is very low and is perfect for almost all cloud applications.'
The data centre industry generated revenue of £16bn in 2012 and key research shows that this will grow to almost £30bn by 2018. However, Blaikie feels that the new breed of energy-efficient data-centres are in a prime position to benefit from this growth through lower energy costs.
'Everest Data Centres has been designed to be one of the most energy-efficient in the UK, if not Europe, with a PUE (Power Utilisation Efficiency) of less than 1.2 when historically data-centres have operated at a PUE of 2.0 or above. This means that for every 1000w of power to your servers, 1000w is used to cool them and provide power to the rest of the facility. With Everest it's less than 200w facilities power per 1000w to servers.'
Blaikie is excited about the future and believes that Everest's policy on only using renewable energy sets the company aside from a green perspective. 'In commitment to our belief in protecting the environment, Everest uses 100% renewable energy and is exempt from the Climate Charge Levy and the data-centre has been built from scratch to the BREEAM "Excellent" efficiency rating.'
He continues, 'The Chancellor recently announced that there would be tax breaks for data-centres that operate energy-efficiency policies, and this can only be good for our clients. We believe that the new-year is the perfect time to re-evaluate your current commitments and are happy to offer 50% off our rack rental fees until 31st March 2014. We would encourage any organisations interested to arrange a tour of the facility so that they can see for themselves the excellent design choices that make this facility a premium option to save on your colocation energy bills.'