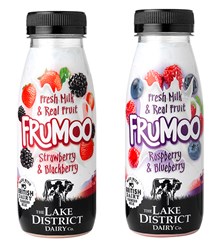 In summertime, Frumoo can be frozen, keeping the school lunchbox cold and everything fresh.
Leeds, Yorkshire (PRWEB UK) 7 January 2014
UK companies have led the way with recent examples including: The Lake District Dairy Company's Frumoo strawberry & blackberry and raspberry & blueberry smoothie-style milk shakes from First Milk; Dairy Crest's Frijj raspberry jam doughnut and honeycomb chocolate swirl milkshakes; and Shaken Udder with its chocolate orange milkshake.
Made using fresh milk sourced from British farmers plus real fruit, First Milk was delighted with Frumoo sales in 2013 and already has plans for new variants in 2014.
First Milk marketing director David Young said: "The Lake District Dairy Company's Frumoo is exactly what consumers are asking for – great tasting, wholesome new flavour solutions to a category currently awash with artificial flavourings and UHT products. Consumers find Frumoo is not only refreshing to taste but, in terms of nutrition, the product is free from artificial colours, flavours or preservatives, as it contains fresh British milk and real fruit. We think these factors appeal to current fans of the ready to drink on-the-go drinks options, but also people who consider themselves to be more food conscious, who are looking for great-tasting, nutritious food produced sustainably."
Packaged in PET bottles from Leeds based, injection and blow moulding specialist, Esterform Packaging, parents also find that Frumoo is a great solution for kids as the 230ml bottle fits inside perfectly inside a lunchbox. In summertime Frumoo can be frozen beforehand, keeping the lunchbox cold and everything fresh.
____________________________________________________________________
PR enquires to pr(at)esterform(dot)com
Or telephone +44 (0)1584 810 600
Esterform Packaging Ltd
Registered in England Registered Office: Boraston Lane Burford Tenbury Wells WR15 8LE Registered Number 3627281
_____________________________________________________________
Editor's notes:
Esterform Packaging is the largest independent converter of PET in the UK, with a wide range of customers in the UK and the rest of Europe. A rolling investment programme ensures that capacity keeps pace with customer requirements.
Typical customers are companies filling juices and juice drinks, bottled water, dairy drinks, still and sparkling soft drinks, and food products. Another significant group produce fluids for personal care, household, DIY and car care applications.
Customers include brand owners, producers of own label products, and co-packers; as well as small specialist producers. Most customers buy standard off the shelf bottles; or customised designs in volume. A small number of larger customers buy preforms to blow in line.
Esterform's is unique in having a full materials laboratory for in-depth testing.
Among accreditations achieved are:

BS EN ISO 9001: 2008
BRC/IoP Global Standards for Packaging & Packaging Materials (issue 3)
SEDEX and QADEX
Esterform's production is primarily based on two stage and single stage injection stretch blow moulding, with the capacity to produce up to 1.5 billion units a year. (PET preforms, bottles and jars). The two manufacturing sites in Tenbury Wells and Leeds work on a 24/7 basis.