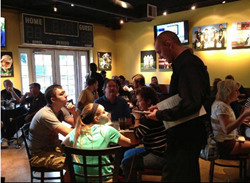 Greendale, WI (PRWEB) January 06, 2014
Affordable Seating, a leading commercial seating manufacturer, has helped Panther Pub & Eatery in Greendale, Wisconsin by supplying them with quality restaurant furniture for their new bar and grill.
Panther Pub & Eatery offers fresh and local approach to sports & food inside and outside of the Greendale community. Panther Pub & Eatery has become the place where people can come to catch just about every sporting event imaginable while immersing themselves in the past, present and future sports world of the local community.
Not only is the atmosphere fresh, trendy, the food and drink follow suit. With a modern take on classic pub food and a large offering of craft beers, Panther Pub & Eatery is bringing something truly unique to downtown Greendale. They have large screen televisions to watch the games and patio seating when weather permits.
The owner of Panther Pub and Eatery turned to Affordable Seating because of their reputation for quality commercial furniture at competitive prices. They ordered Affordable Seating's elegant Window Back Metal Chairs in black frame with black padded vinyl seats. "The stylish metal chairs and bar stools were a great match for the dessert boutique", remarked David, salesperson for Affordable Seating.
The Window Back Metal Bar Chairs are currently on sale for only $31 from Affordable Seating, and the matching bar stools currently sell for $49.90. The frame is available in black, copper vein, silver vein, gold vein or gold. Customers have the choice of a solid wood seat or padded seat using American made option is a padded seat. The seat is upholstered using American made foam and vinyl or fabric and can also be custom made. "The Window Back Metal Chairs are a popular choice for casual restaurants and bistros," said David." The metal frames and solid wood seats are very durable, yet the chair has a sophisticated, elegant design".
The owner also ordered reversible table tops, table bases and patio seating. For the tables he chose the 30" X 30" reversible table tops for $32.50 and 30"X 48" for $49.50 each in mahogany and black finish. The reversible table tops also come in oak and walnut with a brown T-mold edge. The reversible table tops are very popular with customers because they are durable and affordable, ideal for fast casual restaurants. They came in square, round or rectangular shapes in a wide variety of sizes.
For patio seating, he ordered Affordable Seating's Basket Back Outdoor Chair and Netted Outdoor Table Set. The Basket Back Outdoor Chair is a stylish, durable patio chair made of welded steel. Zinc plated with powder coat finish, it is ideal for outdoor or indoor use. They currently sell for $45. For patio tables the owner bought Affordable Seating's popular Outdoor Table with Base in 30" X 48" which sells for $45. The tables come in three different sizes and in round or square shape. They are also very durable, made of welded steel and are a nice complement to any patio chairs.
To view Affordable Seating's full selection of restaurant chairs, bar stools, booths, tables and patio furniture visit http://www.affordableseating.net or call a customer service representative at (888) 495-8884.
Panther Pub & Eatery is located at 5651 Broad St., in Greendale, WI. They can be contacted at: (414) 423-5800.