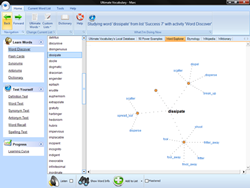 By choosing the right pages or people to follow, it's possible to use social networks to get notified about anything a person might wish to improve upon, be it a skill or a new language.
New York City, NY (PRWEB) January 11, 2014
Knowledge and new information are constantly generated and distributed worldwide, and the internet is both a key source and an overwhelming flood that can drown people in a sea of websites. Keeping up with new insights and the latest developments can be a time-consuming and energy-depleting process when a person has to sift through too much unnecessary information to get to what they're really interested in. Because eReflect understands that most people lead lifestyles that leave them little time to waste on this process, the company urges those interested in improving their vocabulary to visit the Ultimate Vocabulary™ Facebook page to quickly get their daily fix on everything new about vocabulary improvement. According to today's news release from eReflect, it's a good way to find key information collected in one place for easy reference.
News, the latest research, and other developments are discussed on a daily basis on Ultimate Vocabulary™'s social media accounts. People can check eReflect's Facebook page and learn everything from tips for the SAT to word trends and other interesting vocabulary facts. Users can get a complete and often entertaining dose of vocabulary-related news and learn about the latest techniques and tips for improving their vocabulary.
People serious about improving their vocabulary in tangible ways should be motivated to devote time to this process on a daily basis. Vocabulary improvement is a skill that requires consistency, persistence, and willpower to get the best results. 21st-century tools like Twitter and Facebook can be used for more than networking and communicating with people. They can also be used for professional and educational purposes, and have proven to be a key resource for people who are motivated to learn. By choosing the right pages or people to follow, it's possible to use social networks to get notified about anything a person might wish to improve upon, be it a skill or a new language. Taking this into consideration, eReflect's Facebook page and Twitter feed have been designed to offer a blend of entertainment and education for their daily visitors and followers.
For instance, Ultimate Vocabulary™'s Facebook page offers a wide range of valuable information pertaining to vocabulary enhancement; it's regularly updated so that people always find new and relevant content to read. The software's Twitter feed also offers the lowdown on the latest vocabulary developments and vocabulary improvement tips. Today, social media offers an indispensable opportunity for people to effortlessly and quickly keep up with everything important. Ultimate Vocabulary's social media team at eReflect do their part by offering the latest vocabulary news and tested tips for vocabulary improvement.
For more information on how you can benefit from Ultimate Vocabulary, please visit its official website, http://www.ultimatevocabulary.com.
About Ultimate Vocabulary™
Ultimate Vocabulary provides a proven and powerful platform, built to improve anyone's vocabulary.
The interactive self-improvement system provides more learning tools than any other program on the market, as well as more information on words.
The Ultimate Vocabulary software provides each and every user with a personal computer tutor. Providing a step-by-step guide to learning a powerful vocabulary, Ultimate Vocabulary is the learning tool everyone can benefit from.
Of course, the software is also backed by eReflect's iron-clad money back guarantee.