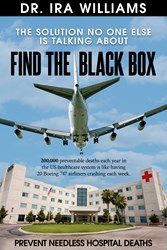 Each board created to regulate the practice of medicine in their respective state has proven to be grossly ineffective, as demonstrated by the increasing annual rate of needless hospital deaths.
Greenville, SC (PRWEB) January 09, 2014
Dr. Ira Williams, author of the recently published book, "Find The Black Box" (http://is.gd/UK4Uk0) supports the need for a healthcare culture change, and details in his book, this change should begin by replacing the Code of Silence found in every hospital medical staff with a far more professional system of meaningful medical peer review. In addition to detailing this solution in his latest book, Dr. Williams also offered such a system in his first book, First, Do No Harm, The Cure for Medical Malpractice in 2004.
Others agree. Dr.Vipan Nikore thinks the first step to changing the culture in healthcare is awareness that it needs to change. (http://is.gd/H0cFoH). Will Yu offers 6 lessons on changing healthcare culture (http://is.gd/H0cFoH). His recommendations include; personalized communication, focus on belief, incentives, visible leadership, clear opportunities for participation, and research & technology. These two examples are among the many considerations for the well-accepted need to change the current healthcare culture.
Dr. Williams says the evidence supporting the need for such a cultural change in healthcare is, if examined closely, overwhelming. "Doctors are, or should be, the best judges of the questionable patient care of other doctors, and a true profession is obligated to provide society with an appreciable degree of self-regulation. Yet the primary system of questionable patient care is, and has always been, medical malpractice litigation. And the continuing cry for greater medical malpractice tort reform confirms the expectation for patients possibly harmed by medical care that civil litigation will continue to be the system of choice for the review of questionable patient care."
Williams offers a much better solution through medical peer review.
The current estimate of needless hospital deaths annually (http://is.gd/GzKOg3) was recently estimated to be quadruple the 1990 estimate of only 98,000 each year. And hospitals continue to be the only place in the country where an accidental death receives no immediate review by a qualified source of authority. Also all 50 state medical examining boards are over 100 years old (http://is.gd/RCD7EW) (tables are in the Appendix). "Each board created to regulate the practice of medicine in their respective state has proven to be grossly ineffective, as demonstrated by the increasing annual rate of needless hospital deaths," says Dr. Williams.
Any attempts for a change in the culture of an enormous system that directly impacts the lives of every person, and is so multi-faceted, should require those seeking to participate in those change-making efforts to first describe the current culture, identify those areas of that culture needing to be changed, and describe the anticipated results of such change.
SC Governor Nikki Haley provided an example of statewide healthcare culture change in February 2013 (http://is.gd/WKIbC6) when she mobilized a small army of state agencies, and other organizations to begin a campaign of individual behavior modification in the very worthwhile attempt to reduce the incidence of adult-onset type 2 diabetes. This attempt at culture change will involve almost one million people in SC alone. "Similar efforts are being initiated elsewhere because the need is so great, and the goal is so worthy, says Dr. Williams. "The unspoken problem with such efforts is how to determine with any degree of accuracy of how much success was achieved, and how soon."
Worthy attempts at healthcare culture change, while theoretically are always promising, usually become unrealized when reality invariably intervenes. Williams illustrates in Find The Black Box the necessity to first fully understand the organizational structure of the target system requiring culture change prior to initiating cultural change efforts. IOM To Err Is Human in 2000 (http://is.gd/2MSBhR), and Dr. Elizabeth McGlynn in her Rand Corp. study 2004 (http://is.gd/eqpqXm) clearly described the current healthcare delivery system as a non-system. But their accurate recognition has thus far failed to initiate the realization that non-systems are incapable of implementing positive safety measures throughout each state's hospital system, and at the doctor/patient interface.
Williams offers a logical and doable process to first describe, in detail, the current healthcare non-system, and then how to begin to provide what has always been missing in that current non-system, an organizational structure.