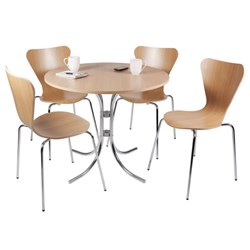 (PRWEB UK) 7 January 2014
In the dynamic world of today when consumer preferences are changing rapidly, contractual agreements between company and its clients are gaining popularity.
Understanding this, FurnitureInFashion announced providing furniture on contract basis to owners of hotels and restaurants at affordable prices. These establishments face the need to change rapidly, in not only the way their main product is offered (be it food in case of restaurants or services in case of hotels) but also change the way they look, their ambiance, their style and their theme. Therefore, for these establishments, availing furniture 2014 on contract is a cost saving scheme which can help these hotels and restaurants to cut down costs and may be ultimately reduce prices.
Many times, the packaging of a product decides whether it will be sold or not, same is the case with restaurant and hotel industry. The packaging, the presentation tells a lot about the efforts made in servicing the customers. FurnitureInFashion's furniture on contract can help these hotels and restaurants to create the right impact on the minds of the consumers. Also, the growing popularity of FurnitureInFashion on Facebook can be utilized to know what the consumers are really looking for when they go to a hotel or a restaurant, is it comfort? Is it style? Or Is it class? All this can help not only FurnitureInFashion in knowing the recent trends but can also help these restaurant and hotel owners in knowing how they should present themselves to their end customers.
An owner of a leading restaurant, when asked to comment on FurnitureInFashion's move to enter into the contract furnishings industry, said, "It is amazing to know that now I can have the flexibility to choose my restaurant's look for a period of time and then change or not change at reduced costs." Many such customers are happy to know that FurnitureInFashion has started providing furniture on contract basis.
The terms of agreement will be fair to both the customers and FurnitureInFashion. "This contract furnishing is actually very cost effective, and it shows in our prices too, which ultimately helps us in delighting our customers," says the owner of a leading hotel in London, UK.
Clients (owners of hotels and restaurants) will have to pay for the furniture in fixed installments for the contract period after which they are at a liberty to choose either to claim the ownership of the furniture by paying some extra sum of money or return the furniture back to FurnitureInFashion. It offers a wide variety of products for hotels and restaurants. Experts and designers here will help these owners of hotels and restaurants in selecting the furniture suited to their needs and style. They will also help them accessorize the furniture for an unparalleled look.
Globally, this contract furnishing industry is gaining momentum and FurnitureInFashion's move to enter into this industry is actually as symbiotic one, beneficial to both the customers as well as the company.
Furniture In Fashion not only focuses on style, but on the comfort zone, as well. All these products are manufactured by skilled craftsmen and are shipped from its German-based warehouse. To make the deal more affordable, free shipping services are offered anywhere in UK. On the other hand, all these furnishing products can be availed from another big showroom of Furniture In Fashion, located in Bolton, UK. For detailed information on these products and some additional services, please check the official website at http://www.furnitureinfashion.net.