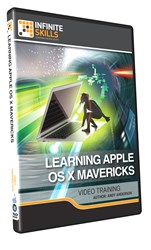 Learn Apple OS X Mavericks at your own speed.
(PRWEB) January 06, 2014
Software training firm Infinite Skills Inc. this week introduced its "Learning OS X Mavericks Tutorial," a course designed for both beginning and experienced Mac users, providing an insightful guide to using the latest Macintosh operating system and its core suite of applications.
Apple's revolutionary, UNIX-based operating system, OS X, revitalized the company as a key player in the desktop computing market beginning with the first release entitled "Cheetah" in 2001. OS X's elegance and stability continue to be a decisive component of Apple computers, driving their popularity because of the intuitive interface and seamless networking capabilities among other features.
Mavericks is the tenth version of OS X, and Apple for the first time moves away from the "big cat" themed versions of recent years, naming the system after the popular surfing site in California.
Infinite Skills' Learning Apple OS X Mavericks Tutorial Video teaches new and experienced users how to take advantage of the power of OS X, explaining how to customize the workspace and use new features and hidden tricks to increase efficiency and maintain security and stability.
Learning Apple OS X Mavericks Video Tutorial - Streaming
Course author Andy Anderson is a veteran trainer at Infinite Skills. Anderson is a career photographer, professor, and graphic designer, with decades of commercial and artistic publications to his credit. He has also authored 17 best-selling books on graphics and design. His training focuses on the Adobe creative line of software and other common systems like Apple's OS X and Microsoft Word.
Here, Anderson begins by showing students how to set up Mavericks to create a custom workspace optimized for efficiency in a daily workflow. He covers topics like using Spotlight to find things on a Mac, using energy saving features, taking advantage of trackpad gestures, and how to work effectively with the cloud.
Anderson then provides a guided tour through Safari and Mail, demonstrating how to take advantage of advanced features like tags and smart folders in Safari, and how to manage rules in Mail, along with the ins and outs of program basics like setting up a mail account, and navigating in Safari.
Anderson then takes students through iTunes and iBooks as well as Calendar and the new Map application.
Finally, the course closes with a look at some additional features and tips, exploring new additions to OS X in Mavericks like dictation and speakable items. Anderson also explains how to keep your system organized using the Automator.
"In my philosophy of operating systems, they should be seen and not heard. I want the OS to sit in the background and do its job efficiently and help me get where I need to go."
Free demo videos and a full list of course contents can be found on the Learning Apple OS X Mavericks training page of the Infinite Skills website:
http://www.infiniteskills.com/training/learning-apple-os-x-mavericks.html
Infinite Skills offers its Learning Apple OS X Mavericks Training Video either as a DVD or a direct download from the company website at a retail price of $49.95. Though the compatibility of programs varies, all Infinite Skills titles and formats are compatible with both Mac and Windows operating systems, and shipping is available around the globe. Additionally, Infinite Skills tutorials are supported by project files which correspond to examples in the videos.
About Infinite Skills Inc.
A leader in the field of software training, Infinite Skills designs its courses on a task-oriented model, teaching complex skills by providing hands-on examples and guiding users as they carry out essential functions. Infinite Skills offers a wide range of software titles available as DVDs, digital downloads, and in iPad editions. Infinite Skills now offers a subscription service, providing access to all its training content for a monthly fee, keeping with company's aim of delivering professional training to customers anywhere they want to learn.