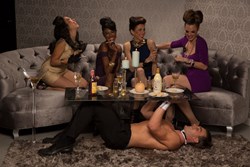 Our customer is the true go-getter woman – she is smart and busy; her social calendar is full and she deserves the lifestyle that has been enjoyed by men for centuries
New York, NY (PRWEB) January 07, 2014
Rent a Gent (http://www.RentaGent.me) is a new destination site boasting sexy, smart, and sophisticated men for rent. Women can now browse through a curated selection of smart talented men with amazing physiques and hire them to cook a fantasy meal, sing, dance, teach guitar, clean your home, or even be a human table for the next party.
Customers are able to reserve male rentals for all occasions – from bachelorette parties, to girls nights, to charity events on 5th Avenue. Need help getting past hump day? Rent a gent to make some cocktails. Want to hang that newly purchased painting? Rent a gent can help. Have an important event coming up? Hire one of our handsome gents with Ivy League degrees to be on your arm.
Book a gent online at http://www.RentaGent.me, select his service, and his outfit. For personal assistance, call (855) Gent-4-You to speak to a free Rent a Gent Consultant. Detailed reviews from past clients are available, as are the gents' resumes, pictures, bios, and special talents.
All gents have been pre-screened and vetted by the global Rent a Gent team and represent the top 1% of the hundreds of men who applied to Rent a Gent. The services include singing, bar tending, dancing, cooking, teaching guitar, and serving as human furniture. Sex is not included.
"Our customer is the true go-getter woman – she is smart and busy; her social calendar is full and she deserves the lifestyle that has been enjoyed by men for centuries," said Sara Shikhman, CEO and Co-Founder of Rent a Gent and a former corporate lawyer."
"The idea for Rent a Gent came to me after I attended my friends' bachelorette parties. Guys throwing me over their shoulder was fun for five minutes, but I wanted something more and so did my friends. To us, looks are very important, but personality is what seals the deal." This is a guilt-free pleasure, its fun, exciting, and by women's rules.
About Rent a Gent
Rent a Gent (http://www.RentaGent.me) is positioned to transform the entertainment industry by making male rentals an accessible, fun and guilt-free experience for millions of women. Rent a Gent doesn't provide grimy escorts or impersonal waiters. Rent a Gent features smart, handsome gents for all occasions, transparent customer reviews, and access to personal gent consultants. It is a revolutionary service that enables women to have the lifestyle that men have enjoyed for centuries. At a reasonable price and without the fraud and bait and switch common in the industry, Rent a Gent delivers a "wow" experience for women everywhere.