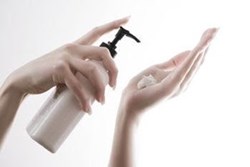 "The most important sales tactic for lotion bottles is providing consumers with the information they need to make educated purchases," said AnneMarie Campbell, Business Development Manager at Lightning Labels.
Denver, CO (PRWEB) January 07, 2014
Lightning Labels, leader in printing custom labels and stickers, is providing businesses with advice when labeling lotion for winter. In cold weather, shoppers tend to increase their consumption of hand lotion and other body products that can soothe chapped and dry skin. Brands can prepare for the increase in demand by re-evaluating labels for beauty products and making certain they are up to par.
"The most important sales tactic for lotion bottles is providing consumers with the information they need to make educated purchases," said AnneMarie Campbell, Business Development Manager at Lightning Labels. "Customers want to know what ingredients are used in products and what effects they have. Leaving out crucial information can be a disincentive for shoppers."
Space on labels can be limited. Companies need to make sure they are including all relevant information succinctly and in a presentable way.
Use Health and Beauty Product Labels to Promote Skin Nourishing Properties:
Health and beauty product labels should provide relevant information about beneficial properties. At this time of year, most consumers are purchasing body products to ease the irritation of flaky, dry skin. Rather than emphasizing fragrance, it's a good idea to demonstrate how silky the epidermis will feel when this product is used.
Sometimes it's possible to communicate this information using imagery rather than words. Neutral colors can emphasize the comforting feel of lotion. Natural earth tones like brown, cream and green are all options. In addition, providing images that make consumers think of moisture can help get the point across. Depict water sources like tranquil lakes or show bright droplets so shoppers will know the product can ease the discomfort of dry skin.
Bath and Body Product Labels - Addressing Health and Environmental Concerns:
Many consumers have specific issues in mind when looking at bath and body product labels. Certain ingredients have been shown to cause negative health effects, while others have an impact on the environment. Some websites, like Environmental Working Group (EWG)'s Skin Deep Cosmetics Database, are devoted to listing potentially dangerous ingredients in bath and body products. A high-risk warning in their database could potentially harm sales. If there's a way to avoid utilizing problematic ingredients, it may be best to find a new recipe. If that isn't an option, use label space to emphasize the product's benefits.
Businesses that target eco-conscious consumers can identify specific ingredients on labels. Brands that do utilize natural ingredients can call attention to this fact graphically by including images of these identifiable components, such as shea nuts or aloe plants. To kick off the New Year, Lightning Labels will offer 10 percent off any label order from January 6, 2014 through January 17, 2014, using promo code NEWYEAR14 at checkout. Maximum discount is $1,000. Free ground shipping applies to orders placed online only and shipped within the U.S. and Canada. This offer cannot be combined with any other offers or promotion. Visit Lightning Labels' homepage for more information or updated promotions.
About Lightning Labels:
Lightning Labels uses state-of-the-art printing technology to provide affordable, full-color custom labels and custom stickers of all shapes and sizes, and now offers a full line of custom packaging products. From small orders for individuals, to the bulk needs of big businesses, Lightning Labels is equipped to handle and fulfill sticker, label and product packaging projects of all types. Best of all, like the name implies, Lightning Labels provides a quick turnaround to every customers' labeling and product packaging needs. Uses for Lightning Labels' custom product labels and custom stickers include food packaging and organic food labels, wine and beverage labels, bath and body labels, and nutraceutical products, such as vitamins, essentials oils, and herbal remedies, as well as event stickers, adhesive window stickers and more. Lightning Labels strongly supports the development of environmentally friendly printing materials and carries EarthFirst PLA, a new kind of green label material made from corn instead of petroleum. While operating as a high-tech printer, Lighting Labels prides itself on its personalized customer service. Lightning Labels provides one stop shopping for all of your label and product packaging needs. For more information and to place orders online, visit LightningLabels.com. For the latest in packaging news and labeling promotional offers, find Lightning Labels on Pinterest, Twitter (@LightningLabels), Facebook, Google + and LinkedIn.