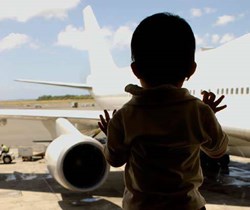 'It seems people are happy to pay extra to sit in child-free zones on planes to ensure a quieter, more relaxing flight, with many prepared to pay more than the current asking price.'
London (PRWEB UK) 7 January 2014
A Globehunters survey of UK travellers found that 53% want more child-free zones on planes, with the majority willing to pay for the privilege.
63% of the UK travellers that wanted more child-free zones said they would pay extra to ensure a more peaceful flight.
This research follows the introduction of child-free zones by airlines such as Scoot Airlines and Air Asia, designed to allow people travelling without children to enjoy quieter flights. A seat in Scoot Airline's 'ScootinSilence' cabins costs £9 extra whilst Air Asia passengers can reserve a 'Quiet Zone' seat for an additional charge of £8.30.
The Globehunters survey found that British travellers are actually prepared to pay more than this, with 41% of people that wanted more child-free zones on planes saying they would pay upwards of £10 to be seated in one.
'It seems people are happy to pay extra to sit in child-free zones on planes to ensure a quieter, more relaxing flight, with many prepared to pay more than the current asking price' said Globehunters Head of Marketing Leon Warner.
The survey also found that there was greater demand for these zones amongst more frequent flyers. It seems people that fly five times per year or more know the frustrations of flying with noisy children all too well, with 69% keen to see more child-free zones on planes.
The over 50s were eager to leave travelling with children firmly in the past, with 64% in favour of more child-free zones on planes. There was far less enthusiasm from people that usually travel with their children, with just 28% in favour.
Contrastingly, a whopping 72% of those that usually travel without children wanted more child-free seating options available.
Leon Warner added: 'It seems UK travellers that travel without kids are keen to be kept as far away from other peoples as possible.'
ENDS
About this survey:
Globehunters conducted this research between 30th November 2013 and 30th December 2013, asking 1,500 UK adults for their opinions on child-free zones on planes.
About Globehunters:
Globehunters is a UK-based online travel company that provides flights, accommodation and holiday packages, and offers market leading fares to travel destinations worldwide.
The company has an established relationship with travel partners, and offers some of the most competitively priced flight and holiday deals on the market, including: airlines, luxury hotels, resorts, boutique hotels, local tour companies and car hire companies throughout the world.
Globehunters is ATOL protected, IATA and ABTA members, providing comprehensive airline failure insurance to all its customers.