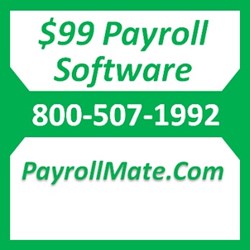 Payroll Mate makes it easy for accountants, businesses and payroll staffs to comply with the 2014 payroll tax regulations. Free trial of Payroll Mate 2014 is available from www.PayrollMate.com
Chicago, IL (PRWEB) January 07, 2014
2014 payroll tax and paycheck processing software by PayrollMate.com, has been updated with the latest withholding tables and tax rates. 2014 payroll tax changes affect Federal income tax withholding (FIT), FICA tax, state income tax (SIT), local income tax, state unemployment tax (SUTA) and state disability insurance (SDI) . Interested employers and business owners can download free trial of Payroll Mate 2014 by visiting http://www.PayrollMate.com/ or calling 1-800-507-1992.
2014 IRS Publication 15 (Employer's Tax Guide) includes the 2014 percentage method tables and wage bracket tables for federal income tax withholding. Most states have also released new withholding schedules, employer tax guides, income tax tables and 2014 payroll tax instructions for employers.
Payroll Mate is simply one of the easiest and most affordable computerized payroll management packages in the US market. The payroll system steered away from over complicating the payroll management process and keeping the computer knowledge required to use the application to a minimum.
Popular among small businesses and accounting firms, Payroll Mate is always one of the first payroll processing solutions to implement tax updates and new payroll regulations. Payroll Mate is trusted by thousands of businesses nationwide including QuickBooks, Peachtree, Sage 50, Microsoft Accounting and Quicken users.
Payroll Mate provides a wealth of features including the ability to automatically calculate net pay, federal withholding tax, social security tax, Medicare, state and local payroll taxes. Payroll Mate also supports different types of payroll pay periods, prints checks, prepares payroll forms 941, 943, 940, 944, W-2, W-3, California DE-9 , California DE-9C, Texas C-3 , Texas C-4, New York NYS-45, Illinois 941 and Illinois UI-3/40. The system allows unlimited tax categories, pre and post-tax deductions and unlimited pay rates per employee making it very flexible and powerful.
Give the payroll software from PayrollMate.com a test drive and see for yourself how easy managing payroll can be. Visit http://www.PayrollMate.com/.