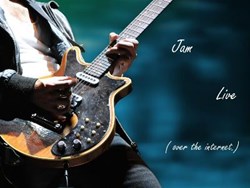 You won't have to leave your home to perform, record, or listen to live music.
Howell, MI (PRWEB) January 07, 2014
Locally owned Jam-Live LLC announced today it has launched a project on the crowd funding site Kickstarter for their new high quality audio internet application.
According to Lee McKenzie, co-founder of Jam-Live, the company's new software will be very popular not only with musicians but all music lovers. Jam-Live will allow anyone to connect an instrument or microphone to the computer and join in with others around the globe to play live music and record it to the Cloud. Musicians will be able to allow streams of listeners, access to their live sessions.
For further information on the Jam-Live Kickstarter project, go to:
http://www.kickstarter.com/projects/218144156/jam-live
The company has completed a working prototype showcased in their Kickstarter video. Jam-Live has set a funding goal of $50,000 and plans to use the funds to scale up the prototype and its components to handle "the weight of the world's musical inspiration," says McKenzie. Brother and co-creator Mark McKenzie, explained they set out to fill a need; the convenience of not having to pack up your instruments and gear to get together and practice. "With Jam-Live, you won't have to leave your home to perform, record or listen to live music. You will be able to hook your instrument up to your computer, go to the Jam-Live website and search for someone to jam with. Make new friends and great music, and share it if you want with fans. The reality is, real time, quality sound on the internet has been neglected until now. We believe the time is right to introduce this breakthrough," he said.
The Jam-Live software runs in Google's Chrome browser and utilizes a standard high-speed internet connection. When fully functional, Jam-Live will allow up to 5 musicians to jam together and still be able to send the mixed stream out to a chain of listeners. The software will be able to record all 5 musicians individual streams to the cloud where they are safely stored and studio type adjustments may be done.
Try out a solo version of Jam-Live at: https://www.jam-live.com/
About Jam-Live
Jam-Live was founded in 2013 by brothers Mark and Lee McKenzie. They are thankful for the help on this project of long time friends Dave Melzer and Paul Clos. The Company's goal is to bring the world a high quality audio solution that will allow musicians to perform with each other from anywhere using today's internet. Future plans include the creation of an online concert system and full functionality on mobile devices.
Contact
To learn more about Jam-Live and this amazing new technology, please contact: