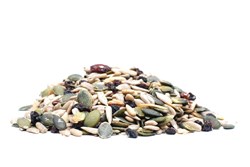 The 'milks' studied are a good matrix for the growth and viability of probiotic bacteria for the lifetime of the product, especially after their intake.
London (PRWEB UK) 8 January 2014
Lactose intolerance is a common digestive problem where the body is unable to digest lactose, a type of sugar mainly found in milk and dairy products. The body digests lactose by using an enzyme protein called lactase that triggers a chemical reaction to break down lactose into two simpler sugars called glucose and galactose, which can then be easily absorbed into the bloodstream. In cases of lactose intolerance, the body does not produce enough of the lactase enzyme so lactose stays in the digestive system, where it is fermented by bacteria It's this fermentation process that causes the symptoms associated with lactose intolerance.1
Important nutrients reside in products that contain lactose, so intolerance to dairy products can cause deficiencies in calcium and other minerals needed for proper growth and development, particularly for young children and pregnant or nursing mothers. In a randomized, double-blind study, conducted by researchers at the Norwegian University of Science and Technology (NTNU), mothers who drank one glass of probiotic milk a day at the beginning of week 36 in their pregnancy up through to three months after birth -- reduced the incidence of eczema in their offspring by 40 percent in children up to age two, the researchers found. 2
Dairy products such as cheese or yogurt can sometimes be consumed by the lactic intolerant, as the lactose contained in these products is broken down by bacteria or other micro-organisms during the fermentation process. In extreme cases alternative forms of calcium and mineral nutrients must be found in plant products, soya milk being a common substitute. Other "milks" are made from plants such as nuts, grains such as rice and oats, potatoes and even peas which are full of nutritional value.
These alternatives to animal milk are characterized by a profile of healthy fatty acids and carbohydrates with low glycaemic index that can provide numerous health benefits for groups with specific problems such as diabetics, the lactic intolerant and vegetarians. The "milks" derived from nuts are especially recommended for pregnant women because of its richness in folic acid and its good calcium/phosphorus ratio, with other plant "milks" rich in potassium and vitamins B and E and very low in sodium
Researchers at the Universitat Politècnica de València, along with The Institute of Agrochemistry and Food Technology (IATA -CSIC) and the University College of Dublin have obtained new products from these plant-based or vegetable "milks" and created an alternative to conventional yogurts. The team worked with various nuts and grains such as almonds, oats and hazelnuts and will soon evaluate the use of walnuts and chestnuts as raw material for these new products. Similar to the benefits of probiotics, the in vitro studies conducted the research team show how some of the products developed have anti-inflammatory properties in intestinal cells, which could alleviate allergic reactions caused by food, and increase the bioavailability of iron.3
"The results we have obtained also show that the 'milks' studied are a good matrix for the growth and viability of probiotic bacteria for the lifetime of the product, especially after their intake," says Chelo González, a researcher at the Universitat Politècnica de València. "Overall, the project results contribute to increase knowledge about the nutritional and health properties of vegetable milks, in view of future industrial applications to develop innovative quality products suitable both for the general public and for specific groups."
References
1. http://www.nhs.uk/Conditions/lactose-intolerance/Pages/Treatment.aspx
2. http://onlinelibrary.wiley.com/doi/10.1111/j.1365-2133.2010.09889.x/abstract
3. http://ruvid.webs.upv.es/?p=14481