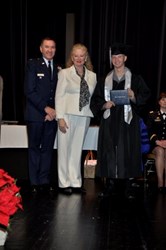 "It's really a win-win scenario for everyone. The students leave Youth Challenge Academy prepared to secure better employment opportunities and put them on a clear path to success," said Dr. Monica Henson
Atlanta, GA (PRWEB) January 08, 2014
Provost Academy Georgia (PAGA) and the Georgia National Guard have developed a new educational pilot program for graduates of Youth Challenge Academy. Historically, Youth Challenge Academy provides at-risk youth who have dropped out of high school with an opportunity to earn their General Educational Development (GED) certificates. Now, through this new strategic partnership with PAGA, four Youth Challenge Academy graduates have obtained their standard high school diploma. The 2014 graduates are: Coleman Humphrey, Pete Peugh, Austin Quesenberry and Robert Jarvis.
"It's really a win-win scenario for everyone. The students leave Youth Challenge Academy prepared to secure better employment opportunities and put them on a clear path to success," said Dr. Monica Henson, Superintendent and Chief Executive Officer of PAGA. "This five and a half month program partnership, which was the brainchild of First Lady Sandra Deal, enables Youth Challenge Academy to produce even stronger cadets through their program. We are truly excited to be a part of this exciting endeavor."
The partnership between PAGA and National Guard Georgia provides students enrolled in Youth Challenge Academy with access to a fully-equipped learning center at each of the two Georgia National Guard installations at Fort Stewart and Fort Gordon. The centers function as satellite campuses of the Savannah and Augusta Regions of PAGA, with local PAGA principals overseeing each center. Students work online and with highly qualified paraprofessionals six hours daily to obtain the required credits needed to complete their high school diploma.
The goal of Youth Challenge Academy is to produce graduates with the values, life skills, education, and self-discipline necessary to succeed as productive citizens. Additional Youth Challenge Academy programs are located in Alaska, Arizona, Arkansas, California, District of Columbia, Florida, Hawaii, Illinois, Indiana, Kentucky, Louisiana, Maryland, Michigan, Mississippi, Montana, New Jersey, New Mexico, North Carolina, Oklahoma, Oregon, Puerto Rico, South Carolina, Texas, Virginia, Washington, West Virginia, Wisconsin, Wyoming. According to the Youth Challenge Academy website, 49% of the students who graduate join the workforce, 41% continue their education and 7% join the military/armed forces.
"Youth Challenge Academy, for twenty years, has been changing lives of youth through education, discipline, and life skills training. Using a military model, we afford youth an opportunity to succeed where they fell short in traditional high school settings. Our new partnership with PAGA allows us to provide greater opportunities and resources to the youth we serve," said Dr. Roger Lotson, Director of the Fort Stewart Youth Challenge Academy. "At our recent graduation, we were proud and elated to have four graduates walk across the stage with a state high school diploma earned through our partnership with Provost Academy."
For more information about PAGA, visit http://www.ga.provostacademy.com. For more information about Youth Challenge Academy, visit http://www.ngycp.org/site/state/gafg/.