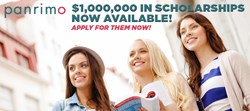 We are excited to announce these three new scholarships. It's been our goal to make study and intern abroad experiences available for students, and this announcement furthers this goal.
(PRWEB) January 06, 2014
Panrimo Study & Intern Abroad Programs announced today it will award more than $1 million in scholarships to college students and young professionals who want to study or intern abroad in 2014.
The goal is to provide more applicants the comprehensive, personalize abroad programs offered by Panrimo to students who thought the prospect was too expensive and out of reach. Starting today college students and working professionals who go abroad with Panrimo can access $1 million in scholarships in 3 unique ways.
Preferred Partner University Scholarship: Panrimo has close partnerships with 58 U.S. universities. Students enrolled at any of these universities automatically qualify for this scholarship. For a complete list of U.S. preferred partner universities, please visit Panrimo.com
Social Media Scholarship: Students and working professionals with a special affinity for social media can apply for the Social Media Scholarship. Awardees will work with Panrimo offices both at home and abroad to promote their Panrimo experiences, from the time leading up to going overseas, activities done while abroad, and reentry back home. These scholarship winners will utilize blogging, Facebook, Vine videos, Pinterest, and Twitter, among other outlets. To apply, please visit Panrimo.com
Get Global Scholarship: Panrimo offers a scholarship for the true global travel enthusiast. Applicants take a short 10-question quiz online to show off their geography knowledge. Questions are multiple-choice, and all applicants are told immediately upon completion of their awarded scholarship value. To take the quiz, please visit Panrimo.com
Additionally, to provide high-quality study and intern abroad programs to more students, Panrimo has expanded its program offerings. New study and intern abroad programs for 2014 include Madrid and Barcelona, Spain. Newly added full-time intern abroad opportunities are now available for summer and fall 2014 in the fields of healthcare, graphic design, nonprofit management, and elementary and secondary education.
Panrimo has offices in San Francisco and Providence, and is headquartered in Detroit, Michigan.
Panrimo is an international program provider offering full-scale, comprehensive study abroad opportunities in 10 countries and full-time internship work opportunities in 4 countries worldwide. Panrimo guides the applicant--affectionately called "Panroamers"--through applying, visa and passport assistance, cultural nuances, and credit transfer. Also included are on-site staff, excursions and cultural immersion activities, health insurance, city orientation and support 24/7, plus post-program "re-entry" welcome and debriefing.
###
For more information, contact Paul Green, Director of Study Abroad at 248-686-2225 or at Paul(at)panrimo(dot)com. Summer 2014 Study Abroad application deadline is April 1. Summer 2014 Intern Abroad application deadline is March 1. To visit Panrimo: http://www.panrimo.com.