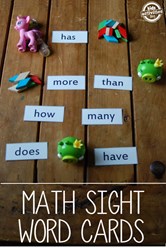 Let the kids decipher words while having a blast.
Dallas, Texas (PRWEB) January 23, 2014
Sight words in math are not easy for Elementary school kids. Seasoned Moms are sharing sight word activities and sight word games on Kids Activities Blog. Let the kids decipher words while having a blast.
Elementary kids are beginning to gain reading confidence. However, most of them are not quite confident enough to read and solve math equations at the same time. It is time for a fun confidence booster math word activity.
To set up the activity, simply download the math sight word list. Set up a variety of toys and counting objects among the cut out sight words on the kitchen table. Try to stick with easy math problems at first or use the template provided on Kids Activities Blog.
After a few reading sessions, mix-up the words and grab handfuls of beads or other small objects to repeat the activity. After a few times, be amazed that the child will gain a bit more reading confidence while doing math.
Setting up sight word games is also easy with the many ideas published on Kids Activities Blog. Simply create a set of word cards. One can make DIY cards or use any of the links provided on Kids Activities Blog to common sight word lists. At Dolch sight words list one can find printable cards for over 220 common words over the next few weeks. Then collect small toys from around the house to use as learning props. Then choose among the many games listed on Kids Activities Blog.
For detailed instructions and to get additional tips, check out Kids Activities Blog this week. Come get inspired to help the kids decipher words and gain reading confidence.
About Kids Activities Blog
Kids Activities Blog is a website created by two moms (who collectively have 9 children), Rachel Miller and Holly Homer from June Cleaver Nirvana. It is their daily goal to inspire parents and teachers to play with kids. This interactive website publishes simple things to do with kids twice a day. Kids Activities Blog is a great tool for moms and teachers to find kid-friendly activities that create memories and sneak learning into the fun.