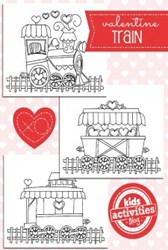 Dream of riding the Valentine train with the cute coloring pages on Kids Activities Blog.
Dallas, Texas (PRWEB) January 21, 2014
Get into the Valentine spirit with fun Valentine coloring pages. Adorable Valentine train coloring pages and amazing egg carton crafts have been released on Kids Activities Blog. Get ready for fun filled arts and crafts at home this season.
The Valentine coloring pages are full of heartfelt cuteness. The pages are ready for a box or crayons, paint, or markers. The design features a train engine, a train car, and a cute caboose.
These Valentine coloring sheets would be great for a classroom party, as a Valentine for a friend or to spend a few quiet moments dreaming of riding the Valentine train.
It is amazing to see all the things that one can make from something that usually lands in the trash. With marker and buttons one can turn the egg carton into a fun math game. Another great idea is making a cat snout and cat ears from an egg carton. This idea is perfect for a day of pretend play.
Make sweet little monster looking treat holders out of a set of egg cartons. This idea is perfect for birthday party favors or for Halloween. Turn the next carton into an amazing fire truck. The kids will be amazed at this awesome masterpiece.
Other ideas includes making a shoelace activity or an alligator brushing game out of the egg carton. Who would know that an egg carton and some toilet paper rolls can turn into an adorable train set? Simply follow the easy to do tutorial published on Kids Activities Blog.
For detailed instructions and to get additional ideas, check out Kids Activities Blog this week. Come get inspired to get into the Valentine spirit with fun arts and crafts.
About Kids Activities Blog
Kids Activities Blog is a website created by two moms (who collectively have 9 children), Rachel Miller and Holly Homer from June Cleaver Nirvana. It is their daily goal to inspire parents and teachers to play with kids. This interactive website publishes simple things to do with kids twice a day. Kids Activities Blog is a great tool for moms and teachers to find kid-friendly activities that create memories and sneak learning into the fun.