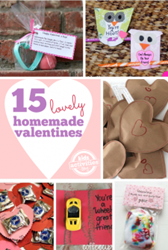 Homemade Valentines are the best kind since they are made with love.
Dallas, Texas (PRWEB) January 15, 2014
Valentines Day is just around the corner. A gallery of homemade Valentines and an adorable Valentine printable have been released on Kids Activities Blog. The printable transforms into a cute Bee Mine bumble bee craft.
Homemade Valentines are the best kind since they are made with love. The Valentines are perfect for for friends and family or to take to school.
The owl Valentine is easy to make with the template. Buy a candy stick to fit into the hole and ready is the cute note. A paper heart pouch is perfect to hold the special message and treat.
Another great Valentine idea is the Peppermint Patty Valentines donning the phrase Be Cool. Healthy Valentine ideas include a cute Goldfish Cracker card, a play dough Valentine, and a cool Minecraft themed Valentine.
A bouncy ball, an iPod, a toy car, and a push pop make other ingenious Valentine themed cards. Making a sock Valentine is quite a useful little gift idea. Give a pair of fun colored socks together with a note saying We're Quite A Pair.
A homemade bumble bee is the adorable printable Valentine craft featured on Kids Activities Blog. The printable makes it easy to cut and glue an adorable little Valentine critter. Help the younger kids to cut out the shapes. Older kids may be able to do this part by themselves.
By using a dab of glue here and there, put the pieces of the bee together. Add some googley eyes and a touch of black glitter for the stripes, and the little bee turns into a keepsake masterpiece.
The kids will be amazed at the adorable Valentines that they created all by themselves.
For detailed instructions and to get additional fun Valentines ideas, check out Kids Activities Blog this week. Come get inspired to let the kids have a blast at Valentines Day.
About Kids Activities Blog
Kids Activities Blog is a website created by two moms (who collectively have 9 children), Rachel Miller and Holly Homer from June Cleaver Nirvana. It is their daily goal to inspire parents and teachers to play with kids. This interactive website publishes simple things to do with kids twice a day. Kids Activities Blog is a great tool for moms and teachers to find kid-friendly activities that create memories and sneak learning into the fun.