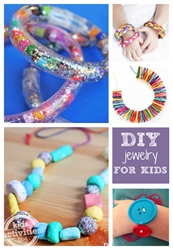 The glitter tube bracelet combines science learning with fashion.
Dallas, Texas (PRWEB) January 11, 2014
Jewelry projects for kids are perfect for a fun afternoon at home. Seasoned Moms are sharing fantastic jewelry projects and telling time activities on Kids Activities Blog. Get ready for crafty afternoons at home.
The list of DIY jewelry projects includes a glitter tube bracelet. The glitter tube bracelet combines science learning with fashion and teaches kids about density.
Leftover streamers can transform into a cute braided bracelet. The tutorials are easy for the kids to follow by themselves. Make seed bead necklaces and after they are worn, toss them in the garden and watch them transform into plants.
Paint fun shaped dry pasta. Then string the pieces to make a fun colorful pasta necklace. Follow the instructions to make an adorable mini clothespin necklace. This project is perfect for older kids. Making a sweet fairy wand will make a perfect accessory for the little princess at home.
Get the kids excited to learn about time with fun games published by seasoned Moms. Make a play dough globe and use a stick to locate timezones. Teach the kids about time zones and how time is different in different parts of the world.
Let the kids have a blast by making a giant clock outside on the driveway. The kids will use their bodies to make the minute and hour handles.
Get creative and make a special paper plate clock. The paper plate clock hides the minutes beneath flaps. Making the clock and playing clock games is a ton of fun. This clock can transform into a homework helper, too.
Fun telling time worksheets, a skip count 5 game, and making a time wall out of cardboard boxes are all ideas to help the kids learn time. A classic race each other to the time game tops the fun ideas. Get ready to have a blast together with the kids telling time.
For detailed instructions and to get additional ideas, check out Kids Activities Blog this week. Come get inspired to have a blast together with the kids.
About Kids Activities Blog
Kids Activities Blog is a website created by two moms (who collectively have 9 children), Rachel Miller and Holly Homer from June Cleaver Nirvana. It is their daily goal to inspire parents and teachers to play with kids. This interactive website publishes simple things to do with kids twice a day. Kids Activities Blog is a great tool for moms and teachers to find kid-friendly activities that create memories and sneak learning into the fun.