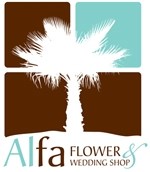 (PRWEB) January 08, 2014
This past holiday season undoubtedly brought forth new engagements across the lives of many happy couples. With the road to "the big day" now treaded upon, attention must now be turned to the exciting yet arduous task of wedding planning. To make preparation efforts more convenient and less costly, Wauwatosa florist Alfa Flower and Wedding Shop is offering numerous early wedding season discounts. Located at 7001 W. North Avenue, Alfa Flower and Wedding Shop are proud to be family owned and locally operated for over 75 years. This expertise makes Alfa more than just a wedding flowers shop in the Milwaukee area, but rather wedding specialists within the community.
It is known that this time of year savvy couples can garner real savings on all of the significant items that make a wedding special. Those looking to adorn their ceremony with gorgeous floral arrangements will certainly have a multitude of options amongst the selection of Alfa's wedding flower specials that are currently available. Timing being one of the most essential factors of wedding preparations, this is why Alfa Flowers and Wedding Shop offer these current pre-wedding season discounts. Current sales include a 10% discount good towards wedding accessories, and 20% off wedding invitations with purchase of flowers.
Happy couples across Southeast Wisconsin are encouraged to begin planning now, and enjoy the benefits of saving time and money, as well as saving themselves from the unneeded pressure of hurried wedding arrangements. With decades of wedding industry experience and an impressive inventory that is available year-round, this wedding accessories superstore has assisted in making countless ceremonies extra special. Alfa Flower and Wedding Shop offers wedding planning books, linens, wedding guest books, attendants gifts, rentals and much more! Couples that have begun planning their ceremony are encouraged to view the complete selection of wedding must-haves at alfawedding.com and call 414-475-7080 to schedule a consultation with Alfa Flower and Wedding Shop as soon as possible.