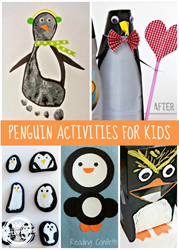 Winter time is the perfect time to learn about penguins.
Dallas, TX (PRWEB) January 08, 2014
Penguin activities are a fun way to learn about the amazing flightless bird. Seasoned Moms are sharing a gallery of fun penguin activities together with an adorable snowman pancake recipe on Kids Activities Blog.
The penguin activities are both fun and easy to do with items found around the house. For the penguin footprint art, simply dab the little one's foot in black paint and use a black marker and a piece of construction paper to transform the print into a cute penguin.
Coffee creamer containers make great penguins, too. Use the easy tutorial to recycle the coffee creamers and turn them into art pieces for Valentines Day. Play a fun game called freeing the Penguins from the ice. Simply submerge plastic penguins in Jello and let the kids dig them out.
Gather a few rocks together with the kids. Turn them into a cute penguin family by following the simple tutorial published on Kids Activities Blog.
Making penguins out of 10 circles will amaze even the oldest sibling. Simply cut out different size circles and let the kids have a blast gluing them together. The circle penguin art will be a keepsake for years to come.
A snowman pancake breakfast is great even for the most reluctant breakfast eater. Get the kids involved making the fun shaped meal. Let them pour the batter according to the instructions provided on Kids Activities Blog.
Add a bit of powdered sugar on the feet for snow, some chocolate morsels for buttons, some whipped cream as hair, and use bits of bacon to finish the design.
For detailed instructions and to get additional fun tips for kids, check out Kids Activities Blog this week. Come get inspired to let the kids have fun creative time that sneaks in a bit of learning, too.
About Kids Activities Blog
Kids Activities Blog is a website created by two moms (who collectively have 9 children), Rachel Miller and Holly Homer from June Cleaver Nirvana. It is their daily goal to inspire parents and teachers to play with kids. This interactive website publishes simple things to do with kids twice a day. Kids Activities Blog is a great tool for moms and teachers to find kid-friendly activities that create memories and sneak learning into the fun.