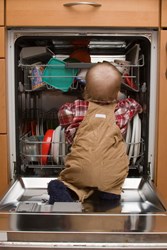 Get kids to help in household chores will teach them life lessons.
Dallas, TX (PRWEB) January 07, 2014
Kick off the New Year with a great challenge. Seasoned moms are sharing tips to get kids emptying the dishwasher and to get kids doing chores on Kids Activities Blog. Have fun doing chores together.
Chores are part of life, yet it can be challenging to get kids to help. Seasoned moms are sharing fun ideas on how to get kids to help washing dishes. Gather the kids in the kitchen. Begin with a simple tutorial about the functions of the dishwasher. Let the kids begin the cycle.
Once the dishwasher is complete, provide the kids with an overview of where things are located in the kitchen. Let them sort things back in to the cabinets. Once they have completed washing the dishes several times, it can turn into a weekly routine.
Consider buying dishwasher pods instead of the loose powder. Measuring the dishwasher soap can be a challenge. Pods can make this chore a lot easier for kids.
Getting the kids to participate in any meaningful challenge can be hard. Getting their input and commitment may be easier over time. Seasoned moms are sharing their current 30-day challenge on Kids Activities Blog in hopes to inspire more moms to do the same.
The challenges range from 30 days sugar free, to 30 days chores, to 30 days one-on-one time. Other moms tackle 30 days meaningful meals or 30 days of veggies and fruits. The list is endless.
For detailed instructions and to get additional tips, check out Kids Activities Blog this week. Come get inspired to kick off the New Year doing chores together.
About Kids Activities Blog
Kids Activities Blog is a website created by two moms (who collectively have 9 children), Rachel Miller and Holly Homer from June Cleaver Nirvana. It is their daily goal to inspire parents and teachers to play with kids. This interactive website publishes simple things to do with kids twice a day. Kids Activities Blog is a great tool for moms and teachers to find kid-friendly activities that create memories and sneak learning into the fun.