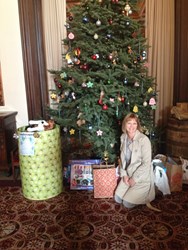 I really appreciated the gift for my baby, may God bless [the Elks] and thank you.
San Francisco, CA (PRWEB) January 07, 2014
Exalted Ruler Nasir Shakour and wife Tina Shakour sponsored the fundraising efforts this year for the San Francisco Elks Lodge. Nasir Shakour noted: "the San Francisco Elks are happy to work with local community organizations, such as Westside Community Services and CalWorks, to help people living and working in San Francisco". The Lodge members and guests donated over two full barrels of toys and provided cash donations to help families in December.
Westside Community Services and CalWorks said about the fundraising: "We at Westside CalWorks cannot be more grateful for the generous support that the San Francisco Elks provided our clients and their families through this holiday season. This year the Elks raised the bar by not only providing an abundance of toys towards our holiday toy drive, but also provided much needed cash donations that will be used to assist our clients with everyday necessities. As our clients strive to get their lives back on track and re-enter the workforce, we cannot over-emphasize the impact the Elks' generosity on their lives during the holiday season."
Some of the beneficiaries of the fundraising and toy drive had this to say about the San Francisco Elks:
"I really appreciated the gift for my baby, may God bless them and thank you."
"Awesome! It's great when a single mom can save money."
"I felt very happy with the gifts the girls received. We appreciated it a lot."
First Lady of the Lodge, Tina Shakour, was happy to see the generosity of the San Francisco Elks: "When I met with the counselors at Westside CalWorks, I learned how difficult this winter was starting off for so many families in San Francisco. We reached beyond our annual toy-drive and asked for cash donations to help with everyday items and to provide further assistance to the families." She adds "we hope to continue partnering with Westside CalWorks to continue supporting families and children in San Francisco."
About San Francisco Elks Lodge:
The San Francisco Elks Lodge is the oldest actively running Elks Lodge and proudly provides donations and services for many San Francisco children and veteran organizations. For more information, visit their website at sfelks.org or on Twitter @sfelks3.
About Westside Community Services:
Westside Community Services has been rebuilding lives and restoring families for over 45 years. Westside Community Services is dedicated to improving the psychological, spiritual and physical health of our community residents. As a wellness and recovery oriented agency their goal is to provide services based on the needs of the community that have been defined by the community.